Do you know what Traffic-media.co is?
You should not ignore the advertisements delivered via Traffic-media.co. Although interacting with them would be the greatest mistake, ignoring them can be dangerous too. If these advertisements keep showing up, it is most likely that a malicious program – for example, adware (advertising-supported software) or a PUP (potentially unwanted program) – is running on your operating system. In fact, the piece of software responsible for introducing you to suspicious advertisements might have entered your operating system bundled with all kinds of malicious infections that also deserve removal. These other infections could be even more dangerous, and so the first thing we recommend doing is inspecting your operating system by performing a full system scan with the help of a legitimate malware scanner. Once you know which infections you need to get rid of, do not waste any time. Hopefully, we can help you delete Traffic-media.co-related malware as well.
The distribution of malware is always very complicated; however, in most cases, unreliable programs are let in via malicious installers. For example, if you choose to install a seemingly attractive program using an unfamiliar installer – you could face one if you use unreliable file-sharing sources – you have to be very careful about any additional offers. In fact, in some cases, malware can be hidden altogether. Due to this, it is not recommended that you use unofficial and unfamiliar installers. Unfortunately, the problems do not end when you install software that is associated with Traffic-media.co. If you interact with the advertisements represented via this adware server, you could end up letting in even more threats, which, of course, could lead to even bigger problems. If you are unable to indicate all threats active on your operating system, you should not hesitate to install a trusted malware scanner to do that for you. Just make sure that the scanner you use is legitimate and up-to-date.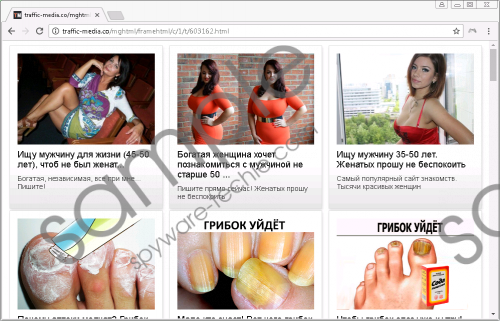 Traffic-media.co screenshot
Scroll down for full removal instructions
If you think that the advertisements represented via Traffic-media.co are reliable, you are sadly mistaken. This adware server cannot showcase legitimate and reliable offers. In fact, our research team warns that it is most likely to showcase only misleading and malicious advertisements. The problem is that they could initially offer interesting deals, and you might get yourself scammed without even knowing it. Furthermore, web cookies could be placed to spy on you and record information regarding your activity and behavior. Such information could then be used to expose you to offers that are attractive to you personally. Overall, if you have interacted with the ads by Traffic-media.co, the chances are that you are in some kind of trouble. Hopefully, you have not disclosed personal information because that could be harder to fix than, let's say, deleting malware.
If Traffic-media.co ads are showing up because of some potentially unwanted program or adware, this is what you need to delete. If you cannot identify the culprit yourself, use a trusted malware scanner. Then look up the guide on our website. If you cannot find one, immediately contact us via the comments section below, and we will help you out. The instructions below might also help, but there are no guarantees because it all depends on the specific threat that you are dealing with. If you are having problems eliminating malware manually, why don't you install anti-malware software? If can erase all existing threats and also keep your operating system malware-free in the future!
Delete undesirable software
Windows 10, Windows 8, Windows 7, and Windows Vista
Launch RUN by tapping Win+R keys at the same time.
Type Control Panel into the dialog box and then click OK.
Find the Uninstall a program menu.
Right-click and Uninstall the undesirable application.
Windows XP
Click the Start menu icon on the Taskbar.
Open the Control Panel menu for more options.
Double-click the Add or Remove Programs icon.
In the Change or Remove Programs menu Remove the unwanted app.
In non-techie terms:
The advertisements represented via Traffic-media.co adware server cannot be trusted because they are most likely linked to malicious parties who are trying to open up security backdoors. One click on an ad could be enough for malicious tracking cookies to be installed. Also, that could be enough for schemers to trick you into disclosing private information or downloading malware. Due to these reasons, you should not interact with the advertisements under any circumstances. Of course, ignoring these ads is not a good idea. Instead, you need to figure out which malware on your PC is responsible for them. When you find it, you have to delete it immediately. If you cannot remove Traffic-media.co-related threats yourself, rely on trusted anti-malware software.