Do you know what TperfectCoupon is?
TPerfectCoupon is a free browser add-on that is supposed to provide you with special offers and online deals so that you can save time and money when shopping on the Internet. The browser scans every website you access and displays offers if any are available. TPerfectCoupon may seem to be a useful tool especially when it is promoted at tperfectcoupon.info, which is the official website of the program. The fact that this advertising-supported program has its official website does not prove that you can fully trust it. We recommend that you remove TPerfectCoupon from the computer because it adds little functionality to your browsers.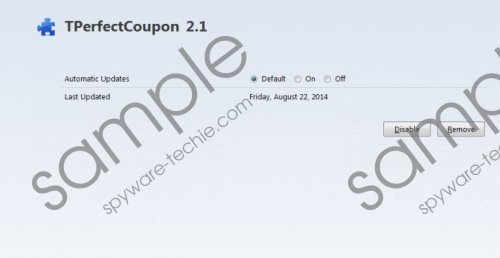 TPerfectCoupon screenshot
Scroll down for full removal instructions
TPerfectCoupon is based on the JustPlugIt engine, which a platform used to produce browser extensions and browser add-ons, such as RoyalCoupon and DigiSaver. TPerfectCoupon is compatible with Internet Explorer, Google Chrome, and Mozilla Firefox. It has also been noticed that Google Chrome automatically disables the adware program.
Once the browser add-on enters the computer, it starts monitoring your online behavior. The program gathers information about your browsing preferences for the purpose of providing you with new advertisements. Moreover, the developers of the program may attempt to enhance the quality of the service. In order for the developers of the program to achieve new objectives, the program records clicks, preferences, search terms, browsing history, and some other details. If you do not want to receive targeted advertisements, you should remove TPerfectCoupon from the computer as soon as you can.
You should also keep in mind that TPerfectCoupon does not own the coupons, web banners, and other advertisements displayed. Moreover, the company developing this program does not endorse third parties by displaying their advertisements and has no control over their actions. It means that you use the program at your own risk, which is why we recommend that you remove TPerfectCoupon from the computer as soon as you can. This feature of the adware program is typical of mostly all adware programs, so, if you want to be secure on the Internet, you should avoid questionable ad-supported programs.
TPerfectCoupon has its uninstaller and can be removed from the computer using the Control Panel applet, but our team recommends using SpyHunter. This real-time security program can eliminate the unwanted adware program and, most important, safeguard the system against various threats. It is crucial to shield the computer from malware and spyware threats because an unprotected computer can get easily afflicted by various threats, resulting in data loss and system glitches.
If you want to eliminate the adware program manually, use our below-given removal guide.
How to remove TperfectCoupon
Windows Vista and Windows 7
Click Start.
Select Control Panel.
Click Add or Remove Programs.
Uninstall the unwanted program.
Windows XP
Click Start.
Select Control Panel.
Click Add or Remove Programs.
Uninstall TPerfectCoupon.
Windows 8
Move the mouse pointer to the lower-left corner of the screen.
Right-click.
Select Control Panel and click Uninstall a program.
Remove the unwanted program.
Remove the TPerfectCoupon browser add-on
Mozilla Firefox
Click Ctrl+Shift+A and click Extensions.
Remove TPerfectCoupon.
Google Chrome
Press Alt+F and point to Tools.
Click Extensions.
Remove the unwanted browser add-on.
In non-techie terms:
If you want to be sure that the computer contains no files associated with TPerfectCoupon, you should implement a powerful scanner. We suggest using our recommended program, which you can install using the below-given installation guide.