Do you know what TowerTilt is?
TowerTilt is just one of the many adware applications from SuperWeb LLC group. All of the applications from this family try to make an impression that they are useful browser plugins. However, that is not exactly the case. Although TowerTilt could provide you with useful information whenever you shop online, there is also a chance that it will expose you to potentially corrupted content. TowerTilt can be easily corrupted my malevolent third-parties. Therefore, if you accidentally installed this application on your computer, you have to remove TowerTilt as soon as possible.
Our research lab team has seen plenty of similar applications, so they know exactly what kind of precaution measures should be employed to avoid them. First off, you must stop downloading freeware apps from unreliable websites. TowerTilt does have a homepage at towertil.com, but there is no direct download link available there. It means that this application ALWAYS comes bundled with third party installers and downloaders. It also means that you install TowerTilt onto your PC yourself, even if you do not realize it. And it is also possible that you encounter similar applications before, for example, Laflurla, Fortunitas, Surftastic, etc.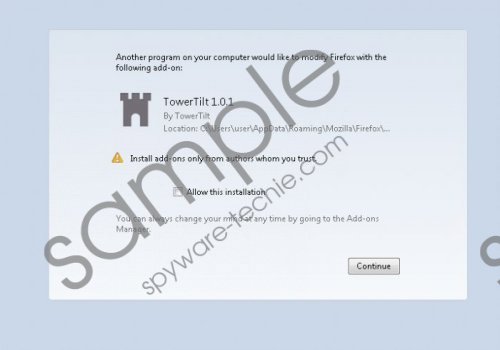 TowerTilt screenshot
Scroll down for full removal instructions
The good thing about TowerTilt is that this program has an entry on the list of installed programs. It means that you can uninstall TowerTilt via Control panel. Take note that upon installation TowerTilt adds extensions to Internet Explorer, Mozilla Firefox and Google Chrome web browsers as well. Mozilla Firefox might present some difficulties because you will most probably need to remove the TowerTilt add-on manually. Removing TowerTilt through Control Panel does not make the add-on disappear automatically.
If you are wondering why it is so important to remove TowerTilt, it is because this application is not safe. It is true that the adware program is not a malicious computer infection, but it very vulnerable to third-party exploitation. Not to mention, that it can be excruciatingly annoying. TowerTilt displays banners ads in a various websites. It also displays shopping suggestions in such commercial websites as bestbuy.com, amazon.com and ebay.com. This list could be endless.
You should never click a commercial pop-up ad, because you can never know where you could end up. Malevolent third parties could make use of TowerTilt to promote their corrupted content, and TowerTilt is not responsible for your security, because its privacy policy does not cover third party content.
Therefore, you need to take your system security into your own hands and remove TowerTilt at once. Invest in a powerful antispyware to scan your computer for other potential threats. Remove unwanted programs to avoid serious computer security issues.
Manual TowerTilt Removal
Windows 8
Drag mouse cursor across the screen to the bottom right corner.
Click Settings on Charm bar and then select Control panel.
Access Uninstall a program and remove TowerTilt.
Windows Vista & Windows 7
Press Start menu and click Control Panel.
Open Uninstall a program and remove TowerTilt.
Windows XP
Open Start menu and navigate to Control Panel.
Select Add or remove programs and uninstall TowerTilt.
Remove TowerTilt from Mozilla Firefox
Press Alt+T and click Add-ons.
Disable and remove TowerTilt from Extensions.
Restart browser.
If you encounter problems while removing TowerTilt, please contact us by leaving a comment, or try out the second set of removal instructions below this description.
In non-techie terms:
TowerTilt is an unnecessary application that does not live up to its promises. It may lead to serious computer security issues, so you have to remove TowerTilt from the system as soon as possible.