Do you know what TortugaBrowser is?
TortugaBrowser is one more questionable application that has been roaming the web lately. On its official website, this suspicious program is advertised as a great web browser with some excellent features. It should provide you with various customization features and should improve your virtual security. At first it might sound like a great tool to have, but you must know that in reality this suspicious program does not function in the best possible way. In fact, our research team has classified this suspicious web browser as a potentially unwanted program. Such classification is mostly due to the suspicious functionality of this program and its questionable distribution. We strongly advise users to delete TortugaBrowser as we believe that there are better alternatives out there on the web. Make sure to use the removal guide that we provide below to get rid of this suspicious third-party web browser.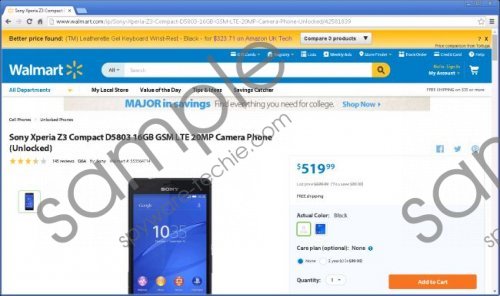 TortugaBrowser screenshot
Scroll down for full removal instructions
As soon as TortugaBrowser enters your operating system it will be set as your default web browser. Such situation is more than annoying and frustrating, to put it mildly. What is even more annoying is that by using this browser you will be presented with unwanted third-party web content. Such content is in most cases is presented to you as various banner ads, annoying coupons, and suspicious pop-ups. Such activity will make surfing the web with TortugaBrowser an annoying and bothersome activity to say the least. It is worth noting that all the ads that this potentially unwanted program provides are utterly worthless. Additionally we have found out that this browser does not offer any significant virtual security. While using it, we were able to enter various suspicious third-party websites as well as download questionable programs, and we were not notified about any potential risks. We strongly advise you to use one of the major web browsers instead of TortugaBrowser as they are much more reliable. Make sure to remove this potentially unwanted program since it holds no valuable features.
It is important to note that even though it is possible to download this suspicious web browser from its official website, quite a few users report that they did not install it consciously. This is quite alarming since it signifies that TortugaBrowser is spread via software bundles. Bundled installers are well known to be the primary source of suspicious or even potentially malicious programs. Thus, you are highly advised to check your operating system for questionable software if you have found TortugaBrowser active on your PC. Every security conscious user should implement a professional antimalware tool if one is not active already. Such a tool provides overall system security at all times by warning you about potentially malicious websites and downloads. In fact, a reliable antimalware tool could make your operating system virtually unbreakable.
The removal of TortugaBrowser is rather simple since you can delete it via Control Panel. Unfortunately, in some cases the questionable program might not be removed entirely, and some traces of it could still be active on your PC. To be sure that every single bit of TortugaBrowser has been removed from your operating system make sure to conduct an in-depth analysis of your PC for potential leftovers once the manual removal has been executed.
How to remove TortugaBrowser from your computer
Instructions for users of Windows Vista and Windows 7
Click the Windows button and then go to Control Panel.
Click the Uninstall a program option.
Right-click TortugaBrowser and select Uninstall.
Instructions for users of Windows XP
Tap the Windows key on your keybaord.
Select Control Panel.
Click Add or Remove Programs.
Uninstall the unwanted application.
Instructions for users of Windows 8
Move the mouse pointer to the lower-left corner of your desktop.
Right-click and select Control Panel.
Click Uninstall a program.
Select TortugaBrowser and click the Uninstall button.
In non-techie terms:
If you think that manual removal is a task a bit too complicated for you and you wish to remove this potentially unwanted program in a quick an easy way, please follow the instructions provided below. They will help you delete this questionable program in an automatic way.