Do you know what Torcho.com is?
You should not ignore abrupt search provider changes, especially when it comes to Torcho.com. This may seem like a regular search engine; however, it may be identified as a browser hijacker as well. This threat is likely to travel bundled with advertisement supported programs from the Lyrics family, such as ULyrics, LyricsView, or LyricsSpeaker. If you do not delete Torcho.com as soon as it corrupts your web browsers, there is a possibility that your virtual security will fall at risk. Even if you do not interact with the search provider, ignoring it is not the right way to handle its existence.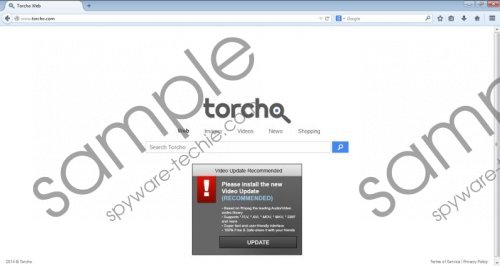 Torcho.com screenshot
Scroll down for full removal instructions
Torcho.com is likely to affect popular web browsers, such as Google Chrome, Mozilla Firefox and Internet Explorer. The search engine is supported by Colombi Tech Ltd., and the company provides an extensive Privacy Policy. Most computer users are intimidated by privacy policy documents because they are lengthy and are often presented using unfamiliar terminology. This should not stop you from learning how the potential browser hijacker works. This is the document to familiarize with if you want to know how the search engine can spy on you and produce third party advertisements. As malware researchers have discovered, the search provider is affiliated to ams1.ib.adnxs.com. This is an adware server whose customers or creators are unknown, and this is a big red flag. Do you think it is okay to click on advertisements which may be presented by cyber criminals? Of course it is not, which is why we do not recommend interacting with any displayed pop-ups or banner offers.
Do you want to click on misleading ads? Do you want to install silently bundled software? Do you want to be routed to potentially misguiding websites? We have no doubts that you answer 'no' to all of these questions, and so Torcho.com removal is your next step. What should be your first step? Malware researchers suggest installing automatic malware removal software first. With this software in action you will not need to worry about potentially intrusive and dangerous programs when time to change undesirable search tools comes. You can perform this manually with the assistance of the guides below. Do not forget to restart each of the browsers after the removal steps are completed.
Delete Torcho.com from browsers
Remove from Internet Explorer:
Open IE and simultaneously tap keys Alt+T to open the Tools menu.
Now select Manage Add-ons and click Search Providers in the menu on the left.
Add a new default search tool, Remove the undesirable option and click Close.
Tap Alt+T once again but this time and select Internet Options.
Click the General tab, locate the Home Page, change/delete the URL and click OK.
Remove from Mozilla Firefox:
Open Firefox, simultaneously tap Alt+T (Tools menu) and click Options.
Click the General tab on the left, change/delete the Home Page URL and click OK.
Now navigate to the Firefox search box located on the top-right corner of the page.
Click the search provider icon to open a drop-down menu and click Manage Search Engines.
Click the undesirable search tool, select the Remove button and finally hit OK.
Remove from Google Chrome:
Open Chrome, simultaneously tap Alt+F to open a menu on the right and click Settings.
Move to On Startup, mark Open a specific page or set of pages and click Set pages.
Change/delete the URL of the search tool you wish to get rid of and click OK.
Move to Appearance, select Show Home button, click Change and repeat step 3.
Finally move to Search, click Manage search engines and add a new default search provider.
Remove the undesirable search tool by clicking the X mark placed on it and click Done.
In non-techie terms:
Torcho.com is considered to be a browser hijacker because computer users report it replacing installed search tools without permission. Furthermore, the application displays banner advertisements which are not reliable and should be ignored for your own security. Of course, you should remove Torcho.com instead of ignoring it. We recommend using an automatic malware remover to delete malware which may run on the PC and then using the manual removal guides to replace undesirable search tools.