Do you know what Toptonews.net is?
Cyber security experts have concluded that Toptonews.net is a browser hijacker that can infect your computer secretly and get your browser to redirect you to its URL using a dedicated malicious scheduled task. Removing this hijacker from your PC is highly recommended because it can subject you to rather shady content. Some of the links that this hijacker can feature in the search results of its search engine can be malicious and jeopardize your computer's security and your privacy.
Toptonews.net is a bit different from the vast majority of browser hijackers in that it does not hijack the homepage address, new tab page or search provider. According to our malware researchers, this particular hijacker uses a scheduled task that is injected in the Task Scheduler during the infection process. The scheduled task is configured to redirect you to this hijacker every hour while you browse the web. It is compatible with Google Chrome and Mozilla Firefox, but not with Microsoft Internet Explorer. In any case, it is compatible with two very popular browsers, so it can affect many users.
Toptonews.net is a Russian-made browser hijacker that features links to various Russian language articles on its main page. The articles seem legitimate, but you never know because the website is a browser hijacker. It also features a search box in which you can enter search queries. However, the search engine redirects to Google.ua, so it offers nothing that Google cannot offer. Furthermore, if you stay on this hijacker's page for a few minutes, it will start showing a blank screen and start connecting somewhere indefinitely.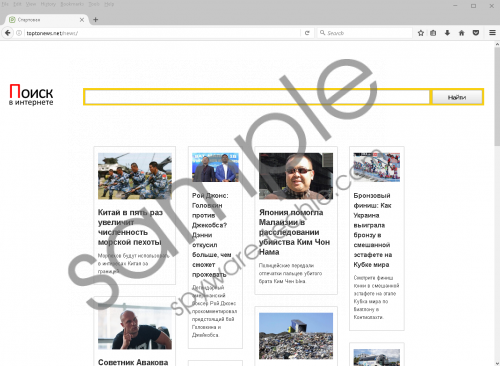 Toptonews.net screenshot
Scroll down for full removal instructions
We think that Toptonews.net's search results can contain promotional links of unverified legitimacy. Researchers believe that this hijacker can alter Google's search results and include promoted links that appear as legitimate. However, the fact of the matter is that the links can redirect you to unknown websites that might contain malicious content such as malware. Furthermore, some of them might redirect you to phishing or scam websites. So using this hijacker as a search engine can pose a threat to your computer's security. Now let us take a look at how this hijacker is distributed.
Our malware analysts think that Toptonews.net can come bundled with malicious software installers. The installers can contain several applications, and some of the additional programs might not show up in the installation settings. As a result, they can be installed automatically. Researchers say that this is likely the case with this particular browser hijacker. It creators have made arrangements to have third-party installers inject it into your PC automatically without your authorization. You may encounter such installers on free software hosting websites.
We hope that you found this article informative. As you can see, Toptonews.net is malicious website/search engine that can modify Google's search results to include additional links that can redirect you to rather questionable websites. If you want to ensure that your PC is safe and secure, we recommend that you remove it from your PC. Our malware analysts have composed a guide included below that will help you get rid of this hijacker.
Reset the web browser
Google Chrome
Open the browser.
Press Alt+F.
Click Settings.
Click Show Advanced settings.
In the Reset settings section, click Reset settings.
Click Reset in the resulting box.
Mozilla Firefox
Open the browser.
Press Alt+H and select Troubleshooting Information.
Click Refresh Firefox.
In the dialog box, click Refresh Firefox again.
Delete the malicious scheduled task
Press Windows+E keys.
Enter C:\Windows\System32\Tasks in the address box and hit Enter.
Identify the malicious task, right-click it and click Delete.
Empty the Recycle Bin.
In non-techie terms:
Toptonews.net is not a legitimate search engine or news website, but it attempts to merge the two to give you the impression that it has something valuable to offer. However, it is distributed in a malicious manner and is set to load each hour while you browse the web. Its search results can contain shady promotional links, but it is the utmost annoying hijacker out there. So if you have it, then you might want to remove it.