Do you know what Topsecuritytabsearch.com is?
Topsecuritytabsearch.com is a fake search engine that will be set as your homepage and search engine on Mozilla Firefox and Google Chrome browsers if the computer infection called a browser hijacker ever finds a way to enter the computer. We do not blame those users who believe that Topsecuritytabsearch.com is a reliable search tool because it has the search box that returns search results in the new window. Secondly, you will find quick access buttons on the start page of Topsecuritytabsearch.com. These buttons lead to Facebook, Instagram, YouTube, and other popular websites. Last but not least, this search tool enables users to scan domains, which might seem to be a useful feature. Even though Topsecuritytabsearch.com does not seem to be an untrustworthy search engine, specialists cannot say that it is very good either because it a) changes the browsers' settings without permission and b) might expose users to potential threats very quickly. It is up to you whether or not to keep this search tool, but, in our opinion, you should eliminate it ASAP to protect your system from harm.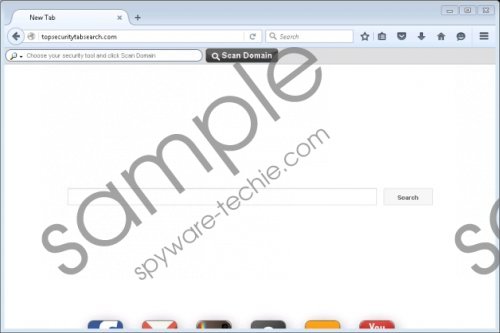 Topsecuritytabsearch.com screenshot
Scroll down for full removal instructions
There are two main reasons Topsecuritytabsearch.com is considered to be an unreliable search engine. First of all, it has been observed that it redirects all the search queries from Topsecuritytabsearch.com to extsearch.maxwebsearch.com, and only then displays the Yahoo! search results for users, which explains why the search results displayed by this search tool are modified. What we have in mind when we say "modified search results" is the presence of ads on the search results page Topsecuritytabsearch.com opens. Some of these ads are not easy to recognize because they look exactly like ordinary search results, which means that users do not suspect that there is something wrong with them and thus click on them without fear. To be frank, these ads appear among the search results to advertise third-party websites. Of course, the developer of Topsecuritytabsearch.com does not care about the safety of these web pages because its main goal is to earn money for advertising particular third-party websites. If you have not understood yet, there is a possibility to be taken to an unreliable website by using Topsecuritytabsearch.com as the default search engine, which is why we suggest removing it ASAP.
There is another drawback associated with Topsecuritytabsearch.com as well. Like Search.mygamesxp.com, Search.myinterestsxp.com, and Search.mytelevisionxp.com, this search engine is going to record details about users, their system, and their activities. Even though it is said that personal details will not be recorded, there is no doubt that this search tool will record search queries. As they might contain personal information (users often enter it in the search box themselves), it will be recorded too and might be shared with companies that are not reliable. Also, these companies might sell this information to its partners, and, as a consequence, these personal details might appear in bad hands. You will not stop it no matter how hard you try. The only way to put an end to all the activities of this questionable search tool is to remove Topsecuritytabsearch.com and start using a more trustworthy search tool instead.
It has been found that browser hijackers like Topsecuritytabsearch.com are usually promoted by malicious pop-up ads that are shown by such software as SwiftSearch or TermTrident. You might not know that you have unreliable software installed on your PC; however, if you remember that you have allowed this browser hijacker to enter your PC by clicking on a pop-up advertisement, it means that you will have to take care of undesirable software showing commercials as well. If you do not wish to encounter any other malware again, you need to install a security tool on your computer. Do not click on random ads and do not download software from file-sharing sites and torrents as well.
You can change your default search engine and homepage by hand; however, it is quicker to reset browsers one by one. Feel free to use the manual removal guide which you will find below this article. Alternatively, you can acquire an automatic malware remover, such as SpyHunter and then use it to delete this browser hijacker.
How to delete Topsecuritytabsearch.com
Mozilla Firefox
Open your browser.
Open the Help (Alt+H) menu and click Troubleshooting information.
Click Refresh Firefox.
Google Chrome
Open your browser and tap Alt+F.
Click Settings.
Scroll down and then select Show advanced settings.
Click Reset settings.
Click Reset.
Internet Explorer
Open your browser.
Tap Alt+T and click Internet Options.
Click on the Advanced tab.
Click Reset.
Check the box next to Delete personal settings.
Click the Reset button again.
In non-techie terms:
Topsecuritytabsearch.com is a browser hijacker that needs to be removed despite the fact that it looks like a powerful search engine. As we have mentioned in the article, it might spy on you, and it might redirect you to bad web pages. Once you delete this browser hijacker from the system, scan your PC with a diagnostic scanner to check the system – other undesirable software might hide on your system, and you know nothing about its presence.