Do you know what Topsafetabsearch.com is?
According to our security experts, Topsafetabsearch.com is a search engine that is distributed using dishonest methods to set it as your browser's homepage and new tab page without your consent. Therefore, you should remove it, but there is more to it than meets the eye. Research has revealed that the reason this search engine is designed to replace your homepage and new tab page address by force is to make you use it for conducting online searches and view promotional links in its search results that may be dangerous to your computer. So do not expect this search engine to come out of nowhere and improve your browsing experience because it will not. Researchers have classified as a browser hijacker and suggest getting rid of it as soon as possible.
To prove that Topsafetabsearch.com is, in fact, a malicious search engine we want to tell you that it was created by a notorious malware developer known as Imali Media Ltd. This company offers online advertising services, but its website at Imali.media does not mention anything about promoting content via shady search engines. It just features vague slogans such as "Performance advertising," "Monetization," "Technology solutions," and other nonsense that does not describe this company's mission whatsoever. We are fairly familiar with this company because we have encountered many of its hijackers before. Most of its earlier hijacker's are still around and include Socialnewpagesearch.com, Topsecuritytabsearch.com, and Search.mysafetabsearch.com. As you can see, Topsafetabsearch.com comes from a known malware developer, so there is no doubt about its true purpose which we will discuss shortly.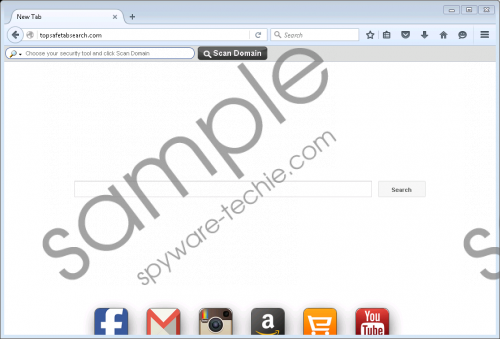 Topsafetabsearch.com screenshot
Scroll down for full removal instructions
Before we move on to its functionality, we think that it is necessary to know how this hijacker can infect your PC. Our security experts have found that it comes with a browser extension called TopSafeTab that has a version for Google Chrome and Mozilla Firefox. Topsafetabsearch.com is considered a hijacker because its accompanying browser extension is bundled with malicious installers that install it onto your browser. Such bundles are known to be featured on sites that distribute free software, so we urge you to be wary or the places where you get your software from. Furthermore, you can also download TopSafeTab from the Chrome Web Store, but this distribution channel is entirely legitimate and does not involve deception and the other does.
Once TopSafeTab is on your computer, it will replace the homepage and new tab page addresses of Chrome and Firefox with Topsafetabsearch.com. The aim is to force you to use it for searching online, and the developers count on you to ignore the change of those settings and keep this hijacker as it is. Researchers say that, like its counterparts, this hijacker is also designed to redirect all entered search queries to http://extsearch.maxwebsearch.com which then redirects them to a modified Yahoo.com search engine. As a result, you will see modified search results that include promotional links. Our security experts say that these links can pose a severe threat to your computer's security and even get it infected with malware if you happen to enter a promoted malicious website. We are not saying that Imali Media has the intention to get your computer infected with malware or promote malicious content. Rather, it does not care about what content its hijackers promote as long as it makes a healthy profit. Shady entities often approach companies such as Imali Media to advertise their malicious content, and if that was true in this case, then Topsafetabsearch.com is one dangerous search engine.
Regardless, you should not risk your computer's security because this fake search engine holds no benefits and will not improve your browsing experience in any shape or form. It is a potential threat because its promoted links come from unknown advertisers, and we recommend that you delete it because of this. Please consult the manual removal guide below.
Uninstall TopSafeTab
Google Chrome
Launch the browser.
Press Alt+F and select More tools.
Click Extensions.
Find TopSafeTab and click Remove.
Mozilla Firefox
Launch the browser.
Press Ctrl+Shift+A and choose Extensions.
Find TopSafeTab and click Remove.
In non-techie terms:
Topsafetabsearch.com is a fake search engine whose main purpose is to show you advertisements that are placed in the search results. It is distributed in a malicious manner and can become your browser's homepage and new tab page without your consent. We recommend that you remove it because of this malicious action and because its promoted links and advertisements can compromise your computer's security.