Do you know what Toppypop is?
Toppypop is an advertising-supported application that belongs to the Lyrics family of adware programs. The application itself is not very prevalent these days, but there is a huge possibility that this will change in the future. Even though Toppypop is not as prevalent as other advertising-supported applications from the same family, it might still enter your system. This usually happens for those users who download various programs from third-party websites and do not have any security application installed on their systems. Of course, Toppypop might also fool you into believing that it is a very beneficial program, and you might download it yourself from some kind of web page. No, users do not download it from its official website, because it is simply not possible to do that at the time of this writing. If Toppypop manages to enter your system, we suggest that you remove it as soon as possible because it will start showing various commercial advertisements on your screen. They might ruin your browsing session and even cause harm to your computer.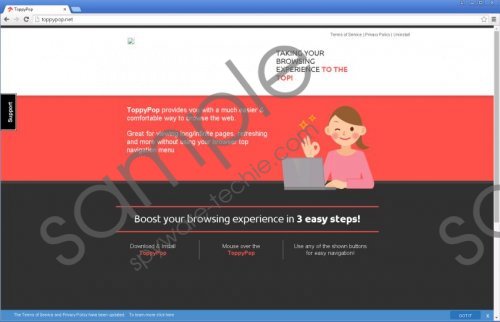 Toppypop screenshot
Scroll down for full removal instructions
In most cases, users download Toppypop themselves because this program promises to "provide you with a much easier & comfortable way to browse the web." Even though it says that it will boost your browsing experience, the truth is that it will show commercial advertisements and pop-up ads on your screen. The program hides the fact that it is ad-supported; there is no such information on the startup page of this official website. Users find out very quickly that it shows ads even though it does not inform them about that. These ads are very intrusive, and they might appear on every website. On top of that, there is a possibility that they will cause harm to your system by redirecting you to the websites containing malicious software. You will never know whether a trustworthy link is integrated into the ad, which means that there is a possibility that one day you will cause harm to your PC. If you want to protect your system, you have to delete Toppypop and eliminate other untrustworthy programs that have entered your system along with it.
There is a huge possibility that you have installed Toppypop on your system during the installation of another program. It is very likely that you have downloaded that program from an untrustworthy web page or torrent. Many programs use different tactics to enter systems, so you might encounter threats that are more serious if compared to adware. Of course, you can simply prevent this from happening. You just have to acquire a security tool. Only a trustworthy security application can guarantee that you will encounter malware ever again.
It will not be difficult to get rid of Toppypop because this program can be removed via Control Panel. If you have never tried doing that, you can use our manual removal instructions or, alternatively, simply scan your system with an automatic malware remover in order to erase Toppypop. It is up to you how to get rid of Toppypop.
How to get rid of Toppypop
Windows XP
Click the Start button.
Select Control Panel.
Click Add or Remove Programs.
Select the program and click Remove.
Windows 7 and Vista
Open the menu and select Control Panel.
Click Uninstall a program.
Right-click on the unwanted program and click Uninstall.
Windows 8/Windows 8.1/Windows 10
Tap the Windows key + R.
Enter Control Panel in the box and click OK.
Click Uninstall a program.
Select the application that you wish to erase.
Click the Uninstall button.
In non-techie terms:
If you have erased Toppypop manually, it is very likely that other undesirable programs are still installed on your computer. We highly recommend that you check your system's condition. You can easily do that by scanning the system with a trustworthy diagnostic scanner. We believe that SpyHunter scanner is the best choice so we recommend using it.