Do you know what TopPageFinder is?
TopPageFinder is a platform for advertising that collects information on your web browsing habits. In other words, it can be used by a third party to provide referral ID services, in order to promote their own content. Therefore, if you are being redirected via TopPageFinder.com all the time, it means that you have installed a program or a potentially unwanted application that makes use of TopPageFinder to increase its traffic or expose you to a variety of its promotional content. It goes without saying that in order to restore your browser settings you need to remove TopPageFinder and all the programs related to it.
If you are wondering what potentially dangerous applications TopPageFinder could be related to, computer security experts say that it may be part of the promotion network for Travian Browser Game pop-up, which is also considered to a potentially unwanted program that should not be allowed to stay in any computer.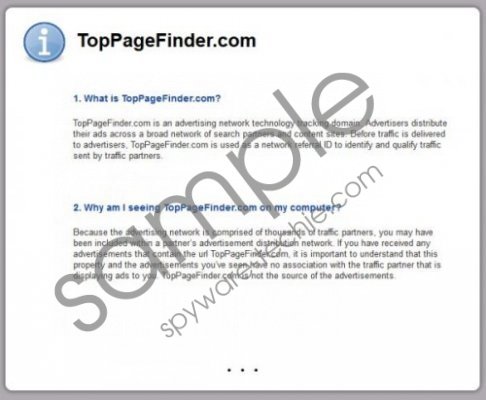 TopPageFinder screenshot
Scroll down for full removal instructions
The main TopPageFinder infection symptom is pop-up advertisements. If you do not notice anything different about your browser, but you are constantly spammed with annoying pop-up advertisements, that is the first sign that you might have a potentially unwanted program installed on your computer. The most disturbing thing about TopPageFinder is that you most probably have installed the application yourself. That is because this program travels bundled with freeware applications, and whenever you install some new program downloaded from a third party website, be sure that you read the installation steps carefully, as there may be some information on additional applications about to be installed as well.
Either way, if TopPageFinder is already installed on your computer, then you need to be aware of the fact that the advertising platform makes use of tracking cookies to collect such data as IP address, search history, system configuration and so on. All of the information is collected in order to direct a custom flow of commercial advertisements at you. Basically, if TopPageFinder displays pop-up ads related to your likes and preferences, there is a higher chance that you will click the ads.
It goes without saying that you should avoid from clicking anything that is distributed by TopPageFinder. Although this adware platform is not a malicious computer infection, it MAY be used as a vehicle for malware distribution, so the sooner you remove TopPageFinder and any related programs from your PC the better.
Run a full system scan with SpyHunter free scanner to find out which programs and files must be deleted, and then invest in a legitimate computer security program that will do the job for you automatically. It will also help you to safeguard your system against similar threats.
In non-techie terms:
TopPageFinder is a potentially dangerous program that displays commercial advertisements. You need to remove TopPageFinder from your PC in order to prevent other malicious applications from entering it.
Aliases: Top Page Finder.