Do you know what Topfindings.net is?
Topfindings.net is like the bringer of bad news since not only is its presence undesirable and potentially dangerous, but it may also bring other malware infections on-board. This search engine can appear in your browsers without your knowledge, and, therefore, our researchers have classified it as a browser hijacker. This is rather intrusive behavior and, in fact, this hijacker acts illegally when it shows up in your browsers unexpectedly. That should already be a good reason to delete Topfindings.net, but if you need more reasons, please continue reading our article. Hopefully, by the end you will agree with us.
Topfindings.net is a totally unreliable search engine that you should not ever use to search the web. As a matter of fact, you should not even keep it on your computer for a second. This hijacker may collect information about your browsing activities and use this to show you targeted ads and links inserted into the search results pages. According to our researchers, it is possible that this search engine does not even show listed results, but, instead, only some sponsored so called "Image results" on the right side. No matter what you would find on its results page, though, we advise you never to click on anything there as that might result in your landing on unsafe websites run by criminals. That could end with more infections on your computer or your being scammed other ways, for example, disclosing some personally identifiable information. In order to avoid such things, you should remove Topfindings.net immediately.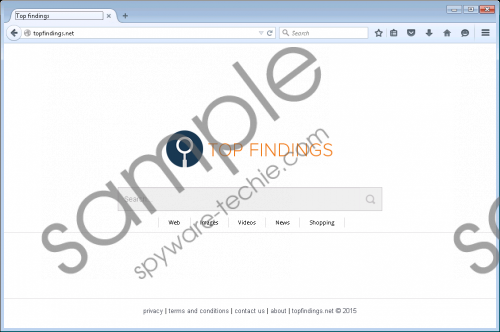 Topfindings.net screenshot
Scroll down for full removal instructions
This browser hijacker can slither onto your hard drive in a free software package that includes malicious software installers on top of a free program. You need to be very careful when you install any kind of freeware bundle because that is your last chance to opt out of certain unwanted components. If you miss that important step that may only be revealed in the Custom option of the installation wizard, you may let a whole bunch of infections onto your hard drive. In this case, it is necessary for you to delete Topfindings.net and all the other potential threats as well.
Since such infected bundles can mainly be downloaded from shady shareware sites, we ask you to be more careful with these; if possible, avoid them altogether. If you end up on such a site and it is unfamiliar to you, chances are you may click on a fake download button and download an infected bundle. As a matter of fact, that is how most users initiate the infection of their own computers.
If you want to eliminate this threat source called Topfindings.net, you can do it by restoring the home page URL settings in your browsers. Since this infection affects Mozilla Firefox, Internet Explorer, and Google Chrome as well, you need to do that manually in all three browsers. Even if you are not an expert computer user, you can easily perform the necessary steps if you follow our instructions below this article. Remember that you can actually prevent any malware from entering your system if you have a powerful and up-to-date security tool, such as SpyHunter, protecting your PC 24/7.
Topfindings.net Removal
Mozilla Firefox
Tap Alt+T and choose Options.
Select General on the left.
Click Restore to Default or edit the URL.
Internet Explorer
Press Alt+T and select Internet options.
On the General tab, click Use default or edit the URL.
Press OK.
Google Chrome
Tap Alt+F and go to Settings.
Under On Startup, click Open a specific page or set of pages and click Set pages.
Edit the home page URL.
Press OK.
In non-techie terms:
Topfindings.net is a browser hijacker that sets itself as your new home page in your browsers without your knowledge. It is also possible that this search engine does not even work properly, but it may still be able to introduce you to potentially unreliable links and third-party content. Since it is likely that this hijacker did not enter your computer all alone, we advise you to act now and delete Topfindings.net along with every other potential malware threat you may find on your PC. In order to do a perfect job of that, we recommend using a professional malware removal tool.