Do you know what TopDealMaster is?
Installing TopDealMaster onto your operating system is not something we recommend. This ad-supported program is completely useless, and, if you keep it installed, you might encounter virtual security issues. We are positive that this is what you want to avoid, which is why we have created this report helping users to remove TopDealMaster. Our research team has examined this suspicious program in our internal lab, and the things we have uncovered might surprise you. Even though this report was created to help delete adware, it also discusses the protection of your operating system. Keep in mind that if you do not take care of your virtual security, deleting undesirable software might become a frequent issue.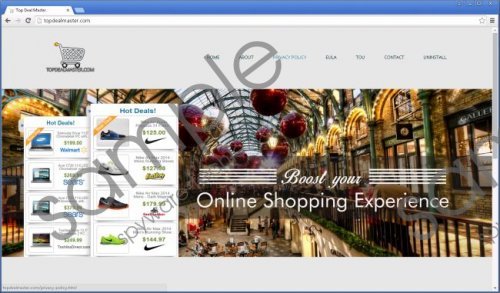 TopDealMaster screenshot
Scroll down for full removal instructions
Topdealmaster.com is the website that is supposed to represent the deals of TopDealMaster. This website does not offer an installer for the advertisement-supported program, which means that it must travel using different methods. Have you found TopDealMaster packaged with other suspicious programs that require removal? The software bundling technique is likely to be employed for the distribution of this adware, and this is not that surprising. OptiSpace, Browser Bodyguard, and PriceChomper were found to attack operating systems in the same manner. Do you know that these programs are identical to TopDealMaster? Even though it is unknown if these ad-supported programs were created by the same adware creator, they can be removed following the same steps. After all, they are identical.
The advertisements injected by TopDealMaster are the main reason why users should delete this adware from their Chrome, Internet Explorer, and Firefox browsers. Even though not all ads injected by this program are considered to be malicious, some of them could be controlled by schemers. Do you want to interact with potentially malicious ads? Of course, you do not, but you might do that without understanding it since schemers can create unreliable advertisements to look as regular ads. If you interact with the content injected by TopDealMaster, it is quite possible that you will put your virtual security at risk. For example, you could be tricked into downloading fake software updates that, in reality, hide much more malicious programs. If you installed these programs, you would have to remove them!
Have you downloaded TopDealMaster with malware that also requires removal? If you have, we do not recommend wasting your time on the manual removal. Instead, employ reliable security software to reinstate Windows protection and to delete all malicious infections. If you believe you can delete TopDealMaster along with the rest of the threats, you can start with the guide below. Afterward, install a malware scanner to find out which threats you need to delete and eliminate malicious files and registry entries. Even if you succeed, there is no way of telling which other infections could attack your personal computer in the future, which is why we still recommend installing reliable security software.
Remove TopDealMaster from Windows
Remove from Windows XP:
Navigate to the left of the Taskbar and click Start.
Open the Control Panel menu and double-click Add or Remove Programs.
Select TopDealMaster and click Remove.
Remove from Windows Vista/Windows 7:
Click the Windows/Start icon on the Taskbar select Control Panel.
Move to Uninstall a program and find the undesirable application.
Right-click the app you want to delete and select Uninstall.
Remove from Windows 8/Windows 8.1:
Simultaneously tap Win+R (RUN), type Control Panel, and click OK.
Navigate to Programs and click Uninstall a program.
Find the application you wish to delete, right-click it, and select Uninstall.
In non-techie terms:
TopDealMaster is an ad-supported program that can inject unreliable advertisements. Just likes its clones, this app works with unfamiliar advertisers, and their intentions are unknown. If you do not want to take security risks, we suggest deleting TopDealMaster, which you can do using a reliable automated malware detection and removal tool. If you do not want to use this software, follow the guide above and install a malware scanner to find out which other malware removal operations you need to partake.