Do you know what Toothy is?
Toothy is a browser extension that you are likely to be forced into installing onto your Google Chrome browser. According to the analysis conducted in our internal lab, this potentially unwanted program was most recently spread via a misleading pop-up page, http://frentury.com/?uid=71245377#, that is linked to a malicious adware server capable of rerouting to all kinds of malicious and unreliable websites. If this is how you downloaded the extension, the first thing you must do is install a legitimate malware scanner to investigate your operating system. It is possible that other potentially unwanted programs or adware will be discovered as well. Needless to say, if you are introduced to other threats, you MUST delete them as soon as possible. It is also important to discuss the removal of Toothy because this PUP might be unreliable and even dangerous as well.
In the past, Toothy was officially represented via the Chrome web store, but the installer link at https://chrome.google.com/webstore/detail/toothy/kpohflomnaifbkibmjdappdifjmojgcp no longer works because the installer has been taken down. Needless to say, that is a good indication that it was found to be malicious or unreliable. From what we have gathered, this PUP could read and then change the data you saw on the websites you visited, meaning that advertisements could have been placed by it. Another source of this potentially unwanted program has not been found, and it is possible that an official download page never existed. That being said, third-party installers could still spread this potentially unreliable Google Chrome extension, and so you need to be careful. It is also important to note that third-party installers can spread additional unwanted programs along with Toothy. If any of them have invaded your operating system, a reliable malware scanner will uncover them.
The page via which Toothy is represented can be shown in full screen, which is supposed to push you into installing the extension. But how are you routed to this page? While you can click a malicious link or a pop-up representing it, you are likely to be rooted to it via an unreliable adware server, onclickrev.com. You will not see connection to http://onclickrev.com/afu.php?zoneid=1407888&var=1407888 because this adware server immediately redirects to one of the pages it is meant to promote. This server has been found to advertise e-commerce, gambling, gaming, and scam websites. It could also introduce users to other extensions, none of which you should install onto your PC. Even if you ignore the pages you are routed to – which is what we recommend – you need to make sure that malware is not responsible for the redirecting because it might collect private information, leak data to unknown parties, and open up security backdoors. Also, if malware is responsible, removing it might be the only way to stop the redirecting.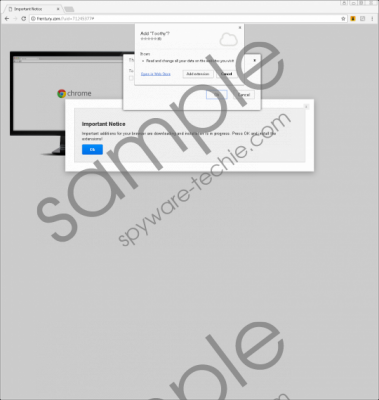 Toothy screenshot
Scroll down for full removal instructions
If you have not performed a full system scan yet, perform it as soon as possible because it is crucial for you to be able to identify the active infections. Once you know their names, you can enter them into the search box at the top to find the removal guides. If you cannot find the information you need, you can request them by posting a comment below. When it comes to Toothy, you can remove it using the guide below. Right now, you only need to delete Toothy from Google Chrome, but if other browsers are affected, we will help you clean them as well. Most important, once all threats are gone, you need to employ trustworthy security software. If you skip this, PUPs and malware could invade again.
Remove Toothy from Google Chrome
Launch the browser and enter chrome://extensions/ into the bar at the top.
Click the recycle bin next to the unwanted extension and select Remove.
Immediately run a full system scan using a legitimate malware scanner to check for leftovers.
In non-techie terms:
Whether or not you have been forced into downloading Toothy, we recommend removing this potentially unwanted program because it is not very reliable, and it is possible that it could be used to showcase third-party ads. It is also important to take into consideration that malware might be responsible for introducing you to the installer of this suspicious PUP. If you run a full system scan, you will learn if you need to delete Toothy-related infections. If you cannot do that manually, there is no need to panic because a legitimate anti-malware tool can do the job. In fact, we suggest installing this software even if you manage to get rid of the PUP manually because of the full-time protection it can provide you with.