Do you know what ToolCube is?
ToolCube is an adware application that may not look like much of a problem at first. This application comes forth with a Windows widget that is supposed to provide access to your favorite shortcuts with only a mouse click. Nevertheless, we would like for you to take note of all the additional functions of this application that may not be that benevolent. Computer security experts suggest that you should remove ToolCube as soon as possible because this application may inadvertently become a malware distribution tool. We are not saying that the program has been created having a malicious purpose in mind, but anything could happen.
The reason this application should not be trusted is that ToolCube is too vulnerable to third-party exploitation. The program supports third-party advertising, and, as a rule, when a program can display third-party ads, it usually does not check whether the ads are completely safe. ToolCube receives monetary profit each time you get redirected to an affiliated website after you click on an ad. Thus, the application and the people behind it do not really care what your final destination is. Before you know it, your computer could be flooded with malicious software that tracks your online activity and little by little drains your financial funds.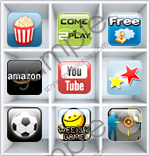 ToolCube screenshot
Scroll down for full removal instructions
On the other hand, saying that ToolCube is a malicious infection would be a little bit too far-fetched. The point is that it is possible to download this application from toolcube.net, which is the official website for the program. This means that users can install the program willingly, and ToolCube does not even intend to hide itself from you (which is something you would normally expect from a malicious application). Of course, sometimes users may not be aware that they have this application on-board, and that happens in the case of bundled downloads.
Software bundling is a common freeware and adware distribution tactic that involves several applications' being spread via the same third-party installer. Software bundling is usually carried out via file-sharing websites when users stumble upon them to download some app. Most of the time, users do not know that they install several applications at the same time because they do not bother reading all the steps on the installation wizard. Thus, if ToolCube happened to have arrived with some freeware app you have recently downloaded from a third-party source, the chances are you did not even see the message that informed you about the impending installation.
If you did not want to have ToolCube on your computer, it goes without saying that you must remove it. However, even if you are satisfied with how this application works, you should still seriously consider terminating the application immediately. You cannot forget the commercial advertisements and pop-ups the program may display. Even if you refuse to click them, you have to remember that ToolCube needs to collect data on your web browsing habits to shows those ads, and that is definitely an intrusive practice.
When you remove ToolCube, scan your PC with the SpyHunter free scanner to look for other unwanted applications. It would be for the best to delete them all automatically, consequently safeguarding your PC against similar intruders in the near future.
How to Delete ToolCube
Windows 10 & Windows 8.1
Right-click the Windows icon on the left side of your taskbar.
When the drop-down menu appears, click Control Panel.
Open Uninstall a program and remove ToolCube.
Windows Vista & Windows 7
Open the Start menu and click Control Panel.
Go to Uninstall a program and remove ToolCube.
Windows XP
Click the Start menu button and open Control Panel.
Double-click Add or remove programs and uninstall ToolCube.
In non-techie terms:
ToolCube looks like a useful Windows gadget, but the program is considered an adware application because it shows commercial advertisements. We are concerned that these advertisements could be misused by malevolent third parties, and ToolCube might accidentally turn into a malware distribution tool. Before any of that happens, please remove the application from your computer, and make sure you terminate any other unfamiliar (or potentially harmful) programs at once.