Do you know what ToggleMark Ads is?
ToggleMark Ads is an invasive and annoying application that disrupts your ability to browse the internet. This exact application is a part of products developed by the infamous SuperWeb LLC. This company is responsible for numerous questionable applications that are floating around the web. The vast list includes programs like MarketResearchHelper, ViewPlay, GearScroll, Greener Web, Melondrea, Waleisa and a lot of others.
Fortunately, our team at Spyware-Techie.com is well acquainted with the applications crafted by SuperWeb LLC. Therefore, we provide a removal guide below the report. Read the article for further information about ToggleMark Ads and tips regarding virtual security.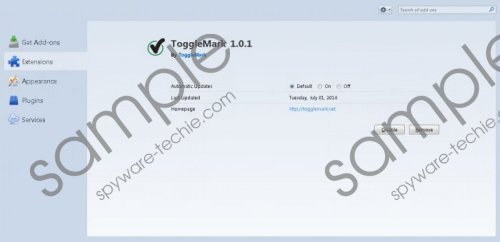 ToggleMark Ads screenshot
Scroll down for full removal instructions
Just like any other application of SuperWeb LLC ToggleMark Ads is mostly distributed via bundled software. Although the official website includes a direct download link, it does not work. Bundled software is the most popular way to distribute third-party applications. Often dubious hosting websites fill their installers with questionable applications. It is done so because that is the way that those websites profit.
To avoid any bundled software being installed onto your operating system you should stop using third-party hosting websites as your software provider. You ought to download any software from official websites. Furthermore running a trustworthy antimalware tool is firmly advised as it is capable of detecting questionable websites and installers. Once detected these installers are likely to get removed from your system thus reducing the risk of getting any suspicious program onto your PC.
If, unfortunately, ToggleMark Ads infiltrates your system you will be presented with numerous commercial adverts whether you like it or not. These adverts will appear at most websites that you visit. But this is not the worst case. ToggleMark Ads use various techniques to collect information about your online activity and once the information is gathered they either share it or sell it to their third-party associates. It means that unknown companies can display third-party advertisements. Sometimes these adverts might include links to suspicious websites such as porn websites, p2p websites or any other kind of websites that are known to be related to malware distribution. Remove ToggleMark Ads in order to lower the risk of getting infected by other internet-based infections.
Removal of ToggleMark Ads is important because even if the program itself is not harmful it could be used as a gateway for other infections. Also, adware applications are not beneficial in any way. It is possible to remove ToggleMark Ads via Control Panel but remember that it does not ensure a clean and secure system. In order to remove the malicious application completely, you will, in most cases, need to tweak registry entries or remove files associated with it. Identifying these files or entries is a task that requires years of experience. If you do not feel comfortable performing manual removal yourself, we advise you to download a licensed antimalware tool and use it to remove ToggleMark Ads.
How to remove ToggleMark Ads from your system
Remove from Windows 8
Navigate the mouse cursor to the bottom right corner of the desktop.
In the Charm bar select Settings.
Now select Uninstall a program.
Select and remove ToggleMark.
Remove from Windows 7 and Windows Vista
Click the Windows button and select Control Panel.
Now select Uninstall a program.
Select and uninstall ToggleMark.
Remove from Windows XP
Tap the Windows key.
Select Control Panel.
Now select Add or Remove Programs.
Locate and remove ToggleMark.
In non-techie terms:
ToggleMark Ads is an application that is not beneficial in any way and should be removed ASAP. Furthermore, ToggleMark Ads could turn out to be the cause of further infections. If you do not feel comfortable to perform manual removal yourself, follow the instructions bellow.