Do you know what Time-to-read.ru is?
Time-to-read.ru is an irritating search engine that will change your homepage on all the popular browsers you keep installed on your computer. Even though specialists call it a "Russian browser hijacker," the truth is that it might enter your computer no matter where you live because it is spread in software bundles or might be dropped by a Trojan infection. It has been found that Time-to-read.ru is very similar to Smartinf.ru, Funday24.ru, and Workno.ru search engines, which are not the most trustworthy too. Therefore, it would be best that you remove Time-to-read.ru immediately if you ever notice that a search engine has appeared in the place of the default homepage and search engine. We know that it will be hard to eliminate this browser hijacker because it makes several serious modifications, so we have decided to help our readers. Read the report to get the latest information regarding the removal process.
Once Time-to-read.ru browser hijacker enters the system, it immediately creates its Value in HKEY_CURRENT_USER\Software\Microsoft\Windows\CurrentVersion\Run. Also, you will notice a new shortcut Вoйти в Интeрнет.lnk on Desktop leading to Time-to-read.ru. Do not worry; this Value and shortcut will no longer be visible if you get rid of the browser hijacker. We are sure that there are users who cannot understand why they need to remove Time-to-read.ru when it looks like a harmless search engine at first sight. Our security specialists say that there are two main reasons why users need to remove Time-to-read.ru from their browsers and set another search engine instead of it. First of all, recently conducted research has revealed that Time-to-read.ru is going to display all kinds of advertisements for users. You might also find third-party links among the search results if you use the search box. Even though these commercials and links seem to be reliable, specialists say that they might redirect users to third-party websites very quickly. In fact, ads and third-party links always lead users to third-party websites because they are provided for users to advertise particular products, services, or simply to increase the traffic rate of particular websites. Unfortunately, untrustworthy websites might be advertised as well. Nobody knows what these websites contain, so there is a risk of ending up on a website promoting malware as well. It is very hard to recognize those untrustworthy websites containing malware, so many users allow malware to enter their systems unknowingly.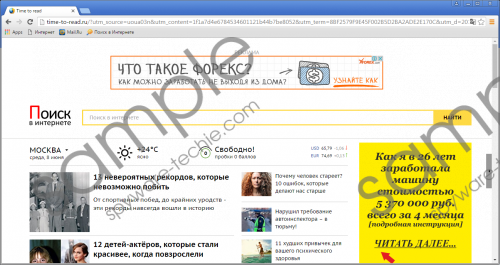 Time-to-read.ru screenshot
Scroll down for full removal instructions
In order to mislead users, Time-to-read.ru uses other domains, e.g. basady.ru, sculkom.ru, and rynkara.ru to set as the user's start page. Of course, these websites redirect straight to Time-to-read.ru. This browser hijacker acts like that in order not to be detected and removed quickly. Unfortunately, Time-to-read.ru is not the only threat that you will have to take care of. It has been found that this infection usually enters systems together with potentially unwanted programs, adware, and other untrustworthy programs, e.g. Searchgo, Torrent Search, Kometa browser, Mail.ru, and Amigo browser. Most of the time users download software bundles from P2P sites; however, they might be dropped by a Trojan infection as well. Of course, you can protect your computer from browser hijackers and other computer infections. You only need to do one thing – install a reliable security tool on the system.
We know that it is hard to remove Time-to-read.ru from browsers because it has made several important changes, and it does not have an uninstaller, so we are going to help you. All you need to do is to follow our step by step removal guide you can find below the article. If it is too hard for you to delete Time-to-read.ru in a manual way, you can scan your system with an automatic scanner, e.g. SpyHunter. It will remove threats for you quickly, and the only thing that you will have to do is to launch it.
Delete Time-to-read.ru
Launch RUN (Windows key + R) and enter regedit.
Tap Enter.
Move to HKEY_CURRENT_USER\Software\Microsoft\Windows\CurrentVersion\Run.
Locate the Value whose name consists of random letters, e.g. jncymwqeqj.
Right-click on it and select Delete.
Find Вoйти в Интeрнет.lnk on Desktop.
Delete it.
Empty the Recycle bin.
Reset Internet Explorer/Google Chrome/Mozilla Firefox
Internet Explorer
Open your browser.
Tap Alt+T.
Select Internet Options.
Click on the Advanced tab to open it.
Click on the Reset button.
Check the box next to Delete personal settings.
Click Reset.
Google Chrome
Open your browser and tap Alt+F.
Select Settings and scroll down.
Open Show advanced settings.
Locate the Reset settings button and click on it.
Click Reset.
Mozilla Firefox
Open your browser.
Tap Alt+H simultaneously and open Troubleshooting information.
Click Refresh Firefox.
Click on the same button in the dialog box again.
In non-techie terms:
Even though you do not see Time-to-read.ru on browsers anymore, it does not mean that your computer is clean. Therefore, we suggest scanning the system with a trustworthy automatic scanner to find all the remaining threats. After doing that, you could remove them all manually or automatically. It is a must to do that because malware existing on your PC might download and install malware on your computer.