Do you know what TightShoppers is?
TightShoppers is an adware application, and it means that with it installed on your computer, you will be exposed to a wide range of commercial advertisements. These advertisements will appear in various shapes and sizes, and you might feel overwhelmed by them. Perhaps you could even think that you need to click them to make them go away. However, the only practical way to make them disappear is removing TightShoppers from the system for good. In this article, we will tell you how to get rid of this application and, consequently, help you protect your PC from similar intruders.
Users often mistake such adware applications for genuine browser extensions. Disregarding whether the application can really provide you with the service it promotes, the bottom line is that there are quite a few additional features of the application that should not be ignored. For example, it is clear that you did not install this extension consciously. Thus, when a program is there on your computer even if you do not want it, it should be more than enough to convince you that you have to remove it. What's more, while you prepare to deal with the application, it would be wise to run a full system scan with the SpyHunter free scanner.
We encourage a full system scan because TightShoppers and other similar adware applications often travel in packs. This means that you did not notice how this adware app entered your PC because you were too busy installing some other application. For instance, if you downloaded a program from a third-party source, then it is highly possible that the third-party installer had several unwanted applications bundled together. If you go through the setup process attentively, you will surely find several steps that inform you about the oncoming installations, but we have found that users tend to skip such steps without giving them a second thought.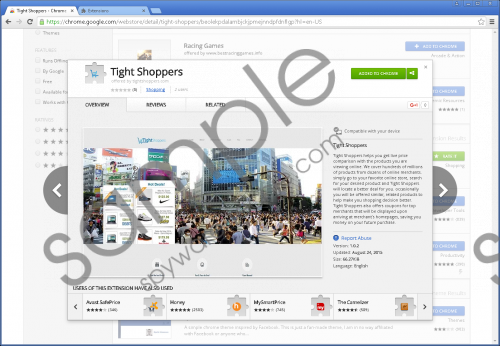 TightShoppers screenshot
Scroll down for full removal instructions
Some may say that this program has an official page (tightshoppers.com), and it is always available on the Chrome Web Store, so there should not be anything wrong about it, right? Well, that is not exactly true. Having homepages and corners in official app stores may not be the best reassurance that the application in question is reliable. On our part, we know that TightShoppers is similar to Price Master, which is yet another adware application. Therefore, when we manage to find associations between similar programs, we can make an assumption that they are either created by the same developers, or they are based on the same pattern.
Whichever it might be, it is clear that the program we are dealing with here is not as reliable as we would want it to be. It does show you coupons and commercial ads, but the question is whether the information presented in those pop-ups is reliable. When we check the information provided on the program's official website, we can see that is no different from other adware programs because it is not responsible for the safety of the third-party content.
To put it simply, almost anyone could make use of TightShoppers to promote their content as long as they knew how to do that. Cyber criminals would definitely know how to do that, so if you are not careful, and you click on every single pop-up that appears on your screen, eventually, you could be redirected to a malevolent third-party website where could get infected with malware. And that would be a lot more dangerous than dealing with this adware extension. After all, the application in question cannot steal your personal information or the banking logins and passwords.
It is not possible to remove TightShoppers via Control Panel because the program simply does not have an entry there. Nevertheless, you can get rid of it via individual browser settings. For the most part, the extension seems to have been intended for the Chrome browser, but it may work on Internet Explorer and Mozilla Firefox, too. Hence, we will provide instructions for all three browsers. When you are done with the manual removal, look for other unwanted and potentially harmful applications.
Invest in a licensed computer security tool of your choice and terminate all the programs that might be threatening your system automatically. For any further questions, do not hesitate to contact us.
How to Delete TightShoppers
Internet Explorer
Press Alt+T and go to Manage add-ons.
Delete the extension from Toolbars and Extensions.
Mozilla Firefox
Press Ctrl+Shift+A and the Add-ons Manager tab will open.
Click the Extensions section and remove the application.
Google Chrome
Press Alt+F and select More tools.
Click Extensions and remove the application.
In non-techie terms:
TightShoppers might look like your next best shopping helper, but that is not an application you should keep on your computer. The application could easily expose you to dangerous websites and corrupted content. This could result in serious security-related problems, and you should definitely avoid that at any cost. Please delete this program right now, and then do everything you can to safeguard your PC against any potential threat you could encounter in the future.