Do you know what Tietokoneesi on Lukittu Virus is?
Do you know what a ransomware infection is? Tietokoneesi on Lukittu Virus is that kind of an infection and there is no doubt you should keep it from your operating Windows system. It has been discovered that this malign program slithers through tiniest security loopholes, exposed by none other than rootkit Reveton Trojan. Did you know that this infection is running on your computer? Well, there is no doubt about that if you have to remove Tietokoneesi on Lukittu Virus from your personal computer.
You may think that your computer has been locked by the Finish Police Department of Cyber crime, also known as Poliisi Osasto Tietoverkkorikollisuuden. This is because the virus can produce a fictitious notification supposedly sent by Police who, allegedly, have discovered you breaking cyber security laws. Of course, this is just a trick schemers employ to focus your attention on the bogus fine payment demands:
Sakon suuruus on 100 euroa. Maksu on suoritettava 48 tunnissa tietokoneen lukitsemisen jälkeen. Ellei sakko maksettu, rikosasia pannaan vireille automaattisesti ja tietokone takavarikoidaan. Rikosasia pannaan vireille edellä mainittujen rikoslain artiklojen perusteella. Seurauksena voi olla sakko vähintään 16 000 euroa tai vankeusrangaistus.
Do not worry about going to jail or being subjected to even larger fines because these statements are completely bogus and have no legal base! This is something that has helped schemers to utilize Der Computer ist Blockiert virus, Video Recording Moneypak Virus and similar infections to collect illicit profit. You should not allow virtual crooks to fool you, and the easiest way to prevent this is by getting Tietokoneesi on Lukittu Virus deleted and your PC safeguarded by reliable, automatic malware detection and removal tools. Please follow the instructions to unlock the computer and remove the infection with SpyHunter.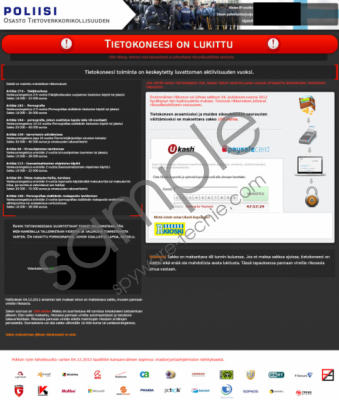 Tietokoneesi on Lukittu Virus screenshot
Scroll down for full removal instructions
Remove the virus from Windows Vista and Windows 7:
Restart the computer, wait for BIOS to load and start hitting the F8 key.
Using arrow keys select Safe Mode with Networking. Hit Enter.
Go to http://www.spyware-techie.com/download-sph and download SpyHunter.
Install the automatic removal tool and get the virus deleted immediately.
Remove the virus from Windows XP:
Perform steps 1-3 using the instructions above. If you are prompted with a warning "Windows is running in safe mode" do not hesitate and click Yes.
Click on the Start, launch RUN and type "msconfig". Hit Enter.
Click on the Startup tab and, after un-checking all items, click Apply.
Restart the computer normally and install the automatic malware removal software.
In non-techie terms:
Tietokoneesi on Lukittu Virus is deceptive and strong enough to fool thousands of clueless Windows users, who fall for the scheme and waste their money. If you do not want to become the next schemers' victim – act now and delete the horrendous infection without further delay.
Aliases: Lukittu Virus.