Do you know what Tidy Network is?
Tidy Network is a computer adware program that displays in-text advertisements on a number of websites. The list of websites is predetermined by the fact whether the websites makes use of TidyNetwork.com services or not. The truth is that Tidy Network is also known as Virtual Layer Advertising and it is a legitimate program that provides its customers with advertisements embedded within keywords in a web-text. For example, if you open a website, and you see a number of underlined words in it, chances are that it uses Tidy Network for advertising. Move your mouse cursor to any of the underlined words and once you do so, a pop-up message will appear, containing a link to a commercial website. Although Tidy Network does not present significant security threats, the general advice is that you remove it from your computer to prevent any unnecessary mishaps.
The main reason why you should consider removing Tidy Network from your computer is the fact that this application collects your personal information. It gathers data in order to provide you with commercial ads that would cater to your likes and preferences. However, it also means that your internet surfing is monitored by Tidy Network and the information collected can be used for marketing purposes.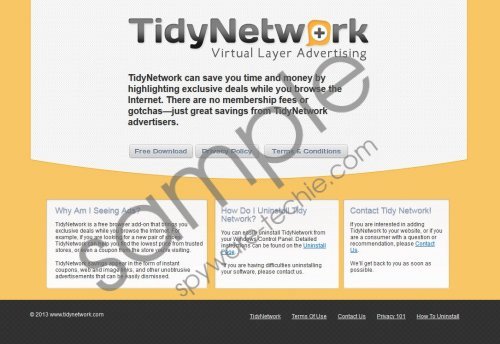 Tidy Network screenshot
Scroll down for full removal instructions
Another reason why you should be wary of Tidy Network is the fact that it can display links to third party websites. Since Tidy Network does not review the links that are embedded in the advertisements, it is possible for a malicious party to embed links to corrupted websites as well, and if you click on any of them, you could be exposed to malware infection. However, aside from such discouraging factors, the main reason why users want to get rid of Tidy Network is none the other but annoying commercial advertisements.
How to delete Tidy Network
Remove from Windows 8
Move mouse cursor to the bottom right corner.
When Charms bar appears, click Settings and select Control Panel.
Go to Uninstall a program and remove Tidy Network.
Remove from Windows Vista & Windows 7
Open Start menu and select Control Panel.
Go to Uninstall a program and remove Tidy Network.
Remove from Windows XP
Open Start menu and go to Control Panel.
Select Add or Remove programs and uninstall Tidy Network.
In non-techie terms:
With Tidy Network installed on your computer, you will have commercial advertisements displayed on a number of websites you visit. In order to avoid such frustrating nuisances as commercial ads, remove Tidy Network from your PC.
Aliases: TidyNetwork.