Do you know what Thtlocker Ransomware is?
When Thtlocker Ransomware attacks your PC, there is no need for you to get into a panic state because this malicious threat only looks bad but it is only a dog that barks and does not bite. Our researchers say that this piece of software seems like the work of a beginner after its .NET code was inspected in our internal lab. But either it is a rookie job or an unfinished beast, you should know that somehow this malware infection has managed to enter your system. Even if your important files have not been damaged by encryption, it is a worrisome fact that this threat has infiltrated your computer. This time, you are in the luck but what about next time when a dangerous ransomware might show up on your PC? This is why we are here: To inform you about how this infection may have appeared on your system and what it has done to it, if at all. Our researchers believe that it is important that you remove Thtlocker Ransomware from your computer immediately and strengthen your virtual security to be able to protect your PC from future attacks.
Cyber criminals have a couple of choices to spread such an infection. One of their preferred methods is spamming campaigns because they can infect a large number of unsuspecting users at the same time. Such a spam usually has a file attachment that poses as an image or text document of, for example, an invoice that has not been allegedly settled by the victim. But it is also possible that you will find a text link in the message that redirects to a file sharing page where you can download the malicious executable and infect your computer that way. Remember that activating a ransomware on your system also means most of the time that you will have to say goodbye to your personal files as they get encrypted. It is only sheer luck that this time you can delete Thtlocker Ransomware without losing your files. But it is essential that you become more cautious around your e-mails not to open questionable ones to end up damaging your precious files.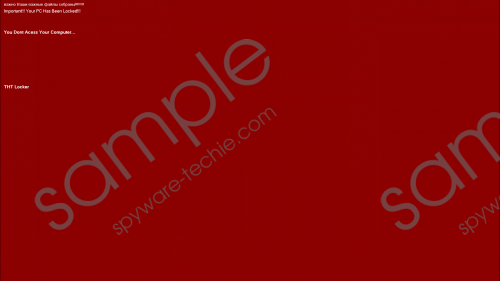 Thtlocker Ransomware screenshot
Scroll down for full removal instructions
It is also possible that you infect your system with this screen locker ransomware while downloading a free program from the wrong source. Suspicious freeware and torrent pages are infamous for promoting malicious bundles that can contain a number of threats, including adware programs, browser hijackers, Trojans, fake alerts, and of course, ransomware programs as well. These questionable pages also host several third-party contents like fake buttons, fake notifications, and the usual annoying advertisements. One click on these may also drop such an infection or a bundle onto your PC. If your computer is not protected by up-to-date security software, you can easily infect it with all kinds of threats in no time. If you want to make sure that your computer is as secure as possible, you should keep all your browsers and other software regularly updated and also, run a reliable malware scanner after you delete Thtlocker Ransomware to detect all possible threat sources that need your immediate attention.
After you run the malicious executable of this ransomware, it simply locks your screen with its red window that has very limited information about what is going on. In fact, you are only told that your computer is locked in English and Russian languages. There is no payment information or demand expressed at all. This can also be a sign for dealing with a work in progress but looking at the .NET code, our researchers say that this is most likely the work of a beginner hacker-wannabe. Fortunately, this infection does not ruin your files by encrypting them and even its screen lock can be disarmed quite easily. Therefore, it can only be a shock to unsuspecting users who would not know how to react or deal with this kind of an issue. So let us tell you how you can remove Thtlocker Ransomware and unlock your computer in a few minutes.
The first step is to change your active window to be able to end the malicious process via Task Manager. Once it is out of the way, you can bin all potentially related files that you have downloaded lately. We have prepared for you the necessary instructions and shared it below this article. However, you may prefer an automated method for more effectiveness. Thus, we recommend that you employ a trustworthy malware removal program (e.g., SpyHunter) that will also safeguard your system from future malicious attacks.
Remove Thtlocker Ransomware from Windows
Tap Alt+Tab to change the active window.
Tap Ctrl+Shift+Esc simultaneously to launch Task Manager.
Locate the malicious process and click End task.
Close your Task Manager.
Tap Win+E.
Check your download folders for recently downloaded suspicious executable files and delete them.
Empty your Recycle Bin and reboot your system.
In non-techie terms:
Finding Thtlocker Ransomware on your computer could be a frightening experience as it locks your screen with its red warning window all of a sudden, but you should know that this ransomware is more like a toothless tiger that cannot really bite. In other words, this malware infection is not one that you should be afraid of since it does not encrypt your files and does not even try to scam you to believe so in order to extort money from you for releasing your files and your computer. But even if this ransomware simply locks your screen seemingly and no real damage is done to your files, you should not take this attack lightly. If this infection has found a way to sneak onto your system, a properly working ransomware can also show up and render all your important files unusable in no time. We highly recommend that you remove Thtlocker Ransomware from your PC as soon as possible. Keeping your computer secure should be a priority if you do not want to lose your files or your stored information stolen. We suggest that you protect your computer with a professional anti-malware program against all possible threats.