Do you know what ThisCounts is?
ThisCounts is an adware application that adds extensions to Mozilla Firefox, Internet Explorer and Google Chrome web browsers. Our research lab team says that it is a coupon app that displays commercial offers whenever you access supported online shopping malls. ThisCounts should help you purchase goods at an optimal price. However, its offers can hardly be trusted. We encourage you to remove ThisCounts from your system because keeping adware application on your PC is never a good idea. If you are concerned about your system's security, you will never install an adware app.
It is possible to download and install ThisCounts from thiscountssoft.info. Surprisingly enough, the direct download link at the official homepage is working. The website also claims the following:
Have you ever wondered how come coupons are out there in the real world, but you cant use them when buying items online ? Well, now it's all made possible. ThisCounts! is a cool browser add-on that will offer you with Discounts and coupons while buying your favorite products.
Surely, it would be great if ThisCounts could live up to its promises, but the fact that the main website is full of poor spelling and grammar examples should be enough to convince that trusting this app is a bad choice. What is more, the official homepage is not the main distribution source. It is very likely that the application comes bundled with other freeware apps. It is very believable, because according to security research ThisCounts exhibits behavior similar to CouponMeApp. Also, some of its components are similar to Right Coupon, Browse to Save, FindWide adware and even Websearch.com browser hijackers.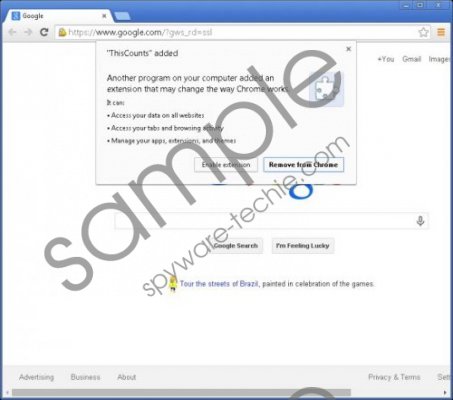 ThisCounts screenshot
Scroll down for full removal instructions
It is highly unlikely that users would download ThisCounts from its homepage directly. Thus, we are forced to believe that bundled downloads are its main distribution method. It is also the reason users are often unaware that they have undesirable apps on board until they notice a constant stream of commercial advertisements.
Truth to the told, ThisCounts ads are more annoying than dangerous. They can significantly slow down your browser and even collect your web browsing information, but they will never infect you with malware unless you let them to. By saying that, we mean that users often initiate undesirable transactions and downloads themselves by clicking ThisCounts ads. After all, these commercial advertisements may contain corrupted content as well, and you have to keep that in mind when you are about to click them.
You should scan your computer with a licensed antimalware tool and find out how many unwanted programs are currently installed on your PC. Then you should remove them all at once, at the same time investing in a reliable computer security program. Staying away from unfamiliar websites may help you avoid potential threats, but it is always a good idea to have a good antivirus program installed too.
How to remove ThisCounts
Windows 8
Drag mouse cursor to the bottom right of the screen.
When Charm bar opens, click Settings and go to Control Panel.
Select Uninstall a program and remove ThisCounts.
Windows Vista & Windows 7
Press Start menu button and go to Control Panel.
Open Uninstall a program and remove ThisCounts.
Windows XP
Open Start menu and navigate to Control Panel.
Select Add or remove programs and uninstall ThisCounts.
For any further questions you can contact us by leaving us a comment, or you can try out the secondary set of removal instructions below this article.
In non-techie terms:
ThisCounts is a potentially unwanted and possibly dangerous application that you have to remove from your PC. It may not be a direct computer security threat, but in the long run cybercriminals could exploit it for their evil deeds.