Do you know what Thirteen Degrees is?
Thirteen Degrees is the name of a yet another SuperWeb infection that does absolutely nothing for the user. But it does, however, make money for its developer by bombarding the user with unreliable commercial advertisements that can put your computer's security at risk. We at Spyware-techie.com are of the opinion that users should remove this unreliable program from their computers as soon as possible. So, if you do not know what this application is all about, but you want to know more, please continue reading this article.
As we mentioned earlier, Thirteen Degrees is a product of SuperWeb, a company that specializes in developing adware programs that nag users and are a known source of malware infections. Polished patterns, Middle pages, Information Vent, and Application Nation are just a few examples of this program, because all of the apps are basically clones of each other. They do the same things, only the title is different. The layout of their promotional websites is also identical. You can compare two examples by going to Itsthirteendegrees.com and Informationvent.com. Only the name and the color scheme differ, and everything else is exactly the same. All of the websites, including the one for Thirteen Degrees feature a download button, but nothing happens after it is pressed, because it was fake from the very beginning.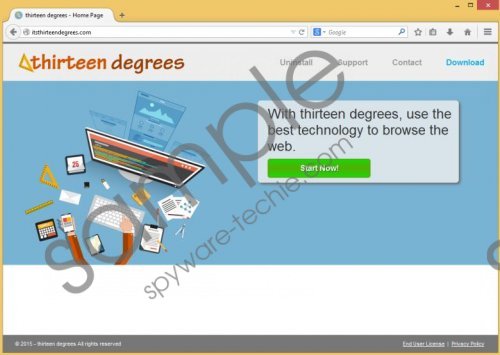 Thirteen Degrees screenshot
Scroll down for full removal instructions
Like its clones, Thirteen Degrees is disseminated via a deceptive marketing technique, called bundling. Bundling involves putting two or more programs into one installer, and they are usually installed simultaneously, so many people do not even notice that they install additional software. Therefore, you should always check whether the application installer contains one than one program by opting for advanced installation settings.
This infection is compatible with Internet Explorer, Firefox, and Chrome. After installation Thirteen Degrees begins to display commercial ads in the form of coupons, pop-ups, pop-unders, in-texts, and so on. As you might have suspected, the ads are supplied SuperWeb's clients, entities that mostly stay in the shadows, and it is very hard to make them accountable if anything bad happens. The advertisements may look innocent, but they might keep a dark secret. Some of them might actually be links to malware featuring websites; others might promote fake online vendors, fake applications and fake software updates. Therefore, we suggest removing this application.
It is also worth mentioning that the ads might be labeled with "Ads by Thirteen Degrees" or "Provided by Thirteen Degrees," but that might not always be the case, so keep that in mind. Commercial ads are more than just annoying; they are also dangerous, so everyone should stay away from them. One last feature that we must talk about is the application's ability to keep tabs on the user's activities. Indeed, Thirteen Degrees can collect information about the user, such as approximate geographical location, search queries, browsing history, and many other things that might not lead directly to you but this stealthy snooping is unacceptable.
All in all, it is clear that Thirteen Degrees is up to no good. It does not benefit browsing experience in any way, it actually does the opposite. The application obstructs it by showing unreliable commercial ads that might contain links to malicious websites, and, on top of that, the program can gather certain information about you, so we definitely recommend that you remove Thirteen Degrees.
How to remove Thirteen Degrees from your PC
Windows 8/8.1
Open the Charm bar.
Click Settings and select Control Panel.
Open Programs and Features.
Find Thirteen Degrees and click Uninstall.
Windows 7/Vista
Open the Start menu and click Control Panel.
Select Uninstall a program.
Find Thirteen Degrees and click Uninstall.
Windows XP
Open the Start menu and click Control Panel.
Open Add or Remove Programs.
Find Thirteen Degrees.
Click Remove.
In non-techie terms:
Thirteen Degrees is an adware application that is sure to put your computer's security in jeopardy. The content promoted by the application is supplied by unreliable advertisers who are capable of engaging in the promotion of malicious advertisers. You should also remove the program because it can keep tabs on your browsing habits and send the information back to the developers. You can delete the application manually or use an antimalware program that would do it for you.