Do you know what Thesearchweb.net is?
If your web browser's homepage has been replaced with Thesearchweb.net, then you should consider removing it and entering a new homepage address, because our researchers say that it is an unreliable, low-grade search engine that might feature sponsored search results as well as collect information about you to personalize the ads you see. There is not a lot of information about it since it is relatively new, but our researchers are certain that this search engine was set up to show promotional links that generate advertising revenue. Indeed, it is all about money, so do not expect this search engine to provide you with a quality service.
We have yet to find information that would prove that Thesearchweb.net is a browser hijacker. So, for the time being, we regard it as an unreliable search engine only. Nevertheless, our researchers say that the most likely method used to distribute it is software bundles. This particular search engine does not have a featured browser extension, so it is reasonable to think that its developers have made arrangements to distribute it using third-party software installers. These installers might be featured on small-time software distributing websites, but you might be able to deselect Thesearchweb.net's installation by selecting advanced/custom installation settings and unchecking its respective checkbox. Now, let us move on to how this search engine works.
Our malware analysts say that Thesearchweb.net might still be in development because it does not provide its users with Terms of Use or Privacy Policy documents. These are essential legal documents that any legitimate search engine or software must have. Moreover, its developer is unknown which only goes to show how truly unreliable this search engine is. Nevertheless, you can use it as a regular search engine that will present you with more or less relevant search results.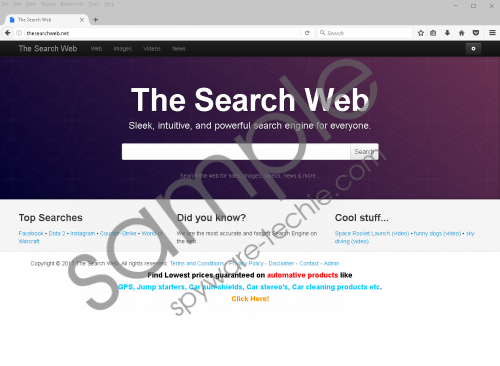 Thesearchweb.net screenshot
Scroll down for full removal instructions
However, our security specialists say that given the shady background of this search engine, it is likely to provide sponsored search results that feature promoted links and advertisements to questionable websites. The promoted links can come from unknown, unreliable entities that that can feature malicious content on their sites. Your PC becoming infected with malicious software is a real possibility. The promotional links generate revenue when clicked, so the creators of Thesearchweb.net have a vested interest in you clicking the promoted links.
To generate the maximum advertising revenue possible, this search engine might collect information about you. While there is no official statement regarding information collection due to the lack of a privacy policy, researchers say that this search engine might collect information such as your search queries, browsing history and ads/links clicked, IP address, geographical location, Internet Service Provider, browser type, operating system type, and so on. The developers can use all of this information to present you with personalized promotional links that you may be compelled to click but, again, you should be wary of the content this search engine provides.
In closing, Thesearchweb.net is a rather shady search engine that can feature promotional links in its search results. This search engine might still be in development or created by malware developers that purposefully do not provide any legal information about it. To be on the safe side of things, our malware analysts recommend that you remove this search engine and replace it with a known reliable search engine. We suggest resetting your browser's settings to default to override any changes or modifications this search engine's installer might have made.
Reset web browser settings to default
Microsoft Internet Explorer
Launch Internet Explorer.
Press Alt+T.
Select Internet Options, and then click the Advanced tab.
Click Reset and check the checkbox.
Click Reset.
Mozilla Firefox
Launch Firefox and press Alt+H.
Select Troubleshooting information and click Refresh Firefox.
Click Refresh Firefox again.
Click Finish.
Google Chrome
Launch Chrome, press Alt+F keys and open Settings.
Select Show advanced settings and click Reset settings.
Click Reset.
In non-techie terms:
Thesearchweb.net is a search engine of unknown origin that features no legal documentation that would prove that it is legitimate. Its distribution methods are unknown and our researchers say that it might feature questionable promotional links in its search results. So removing it is something you should consider.