Do you know what Thedon78@mail.com Ransomware is?
Thedon78@mail.com Ransomware, also known as FenixLocker, is a new infection encrypting users' personal data. Even though it does not lock .exe files, it has been found that it might still ruin some programs, for instance, your security tool by encrypting files that are known to be its crucial components. It has been found that Thedon78@mail.com Ransomware targets documents, pictures, text files, and a number of other files that do not have the .exe extension appended. The AES encryption algorithm, which is a strong cipher, is used to lock users' files. Luckily, it does not mean this time that it will be hard to unlock files because the free decryption tool is available. Users who get infected with this threat and find their files all encrypted should not pay the ransom for the same reason. Actually, unlike other prevalent ransomware infections, it does not tell users about the ransom immediately. It must be true that they are given instructions on how to make a payment to get the decryption key only after contacting cyber criminals. Do not waste your time on doing that because, as you already know, the decryption tool has already been developed by specialists. This piece of software will allow you to unlock files easily, but it will definitely not remove the malicious application from your computer. You will have to do that yourself.
Ransomware infections containing email addresses in their names and asking users to write an email to cyber criminals to find out how to decrypt files are quite prevalent these days. They all enter computers with an intention of getting money from users. Unfortunately, many people transfer the required money because they do not know that the decryption tool exists and need their files back badly. As has been mentioned, users, most probably, receive instructions on how to make a payment when they write an email to Thedon78@mail.com because the ransom note Help to decrypt.txt dropped in every affected folder contains only one vague sentence and a unique key given to a user: "All of your files are encrypted, to decrypt them write me to email : thedon78@mail.com." Since the decryptor exists, there is no point in doing that. Actually, using the decryption tool (you can easily find and download it from the web) is not the only way to recover files. Users who have their files backed up can restore them quite easily after the full deletion of Thedon78@mail.com Ransomware too. Do not forget that it is a must to eliminate this computer infection no matter how you are going to recover files after doing that.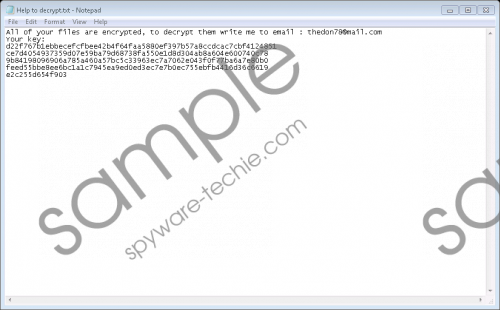 Thedon78@mail.com Ransomware screenshot
Scroll down for full removal instructions
While ransomware infections usually change Desktop wallpapers after encrypting files and tend to apply a bunch of other changes on the infected computer, Thedon78@mail.com Ransomware does not make any changes, except making files unusable. It does not lock the screen, does not change the Desktop picture, and does not place its files on the infected computer. On top of that, this infection does not apply any modifications in the system registry. It should be easier to remove it from the computer because of that.
We will talk about the Thedon78@mail.com Ransomware removal in the last paragraph of this article, but what you need to find out before the deletion of this threat is how ransomware infections are usually distributed so that you could protect your PC from harm in the future. According to specialists, these threats are frequently distributed as attachments inside spam emails. The entrance of malware happens the moment the malicious attachment is opened. Therefore, our first piece of advice for you would be to ignore all spam emails you receive. Secondly, users who do not wish to get their files encrypted one more time should go to install a security application on their computers. An automatic tool should protect your PC 24/7.
Delete the ransomware infection first and then immediately go to unlock files using the decryption tool. To fully erase this computer infection from your system, you will have to find the malicious file you have launched and then erase all the ransom notes it has left for you. If you face difficulties finding this malicious file, scan your computer with SpyHunter. It will delete all the malicious components from your PC in the blink of an eye.
Remove Thedon78@mail.com Ransomware manually
Go to find the malicious file you have launched (check %TEMP%, %USERPROFILE%\Downloads, and Desktop).
Delete it.
Remove ransom notes Help to decrypt.txt from folders containing encrypted files.
Empty the Recycle bin.
In non-techie terms:
There is a possibility that this ransomware infection you have already removed or are going to remove from your PC is not the only threat. Therefore, you should not forget to check the condition of your system after deleting Thedon78@mail.com Ransomware. All detected threats have to be erased from the system as soon as possible because they might contribute to the entrance of malware as well.