Do you know what TheBrowser is?
If you are looking for an alternative application to surf the web make sure to stay away from a program called TheBrowser as it cannot be trusted entirely since it exhibits quite a few suspicious features. Therefore, it is not that surprising that it has been dubbed as a potentially unwanted program by malware experts at Spyware-Techie.com. In fact, we highly advise you to use other browsing applications instead of this one since it does not seem to exhibit any valuable features. Unfortunately, quite a few users are simply tricked into downloading and installing this questionable tool as it is advertised in a very attractive manner. On its official website, you come across claims stating that you will be presented with customization options and maximum privacy. In reality, TheBrowser does not provide all of this in the best way possible. Due to all suspicious features, we highly advise you to delete it without any hesitation.
Once this invasive piece of software successfully enters your operating system, it will immediately be set as your default web browser, which is annoying to say the least. Additionally, the potentially unwanted program in question will use its own search engine, homepage, and new tab page. Even though at first all of this might seem rather useful, you must know that in reality there is something much more alarming about this suspicious web browser. During the further investigation, we have found out the t search engine in question could be the reason other dubious programs can enter your PC in a rather easy way. This is so because you could be redirected by just clicking on a search result. It is important to note that such exposure is not a direct consequence caused by this potentially unwanted application as it does not control the activity of the search provider. It is a dangerous instance because you could lead you to suspicious third-party websites. For example, you could end up on a site with an active arbitrary code execution exploit. This means that just by opening such a website a silent download and installation procedure will be triggered without your knowledge. Thus, your PC could be implemented with some unknown application, which consequently could turn out to be malicious. Despite the fact that such situation does not occur often, the chance remains, and the price that you might have to pay is too huge to take such a risk.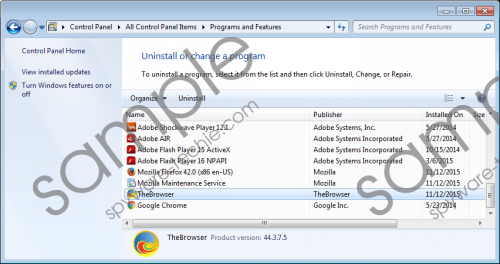 TheBrowser screenshot
Scroll down for full removal instructions
TheBrowser mostly comes via bundled installers that are infamous for being the primary source of dubious software. In the majority of cases, such installers are obtained from questionable third-party websites but bypassing them might not decrease the risk of infect your PC in such a way. This is so because at times you could download them just by clicking on a simple, seemingly harmless advert. This is the reason you should never trust questionable sites and ads within them. Also, you should always learn about the program that you wish to have as much as possible before downloading it since often vendors of questionable software use marketing gimmicks to trick Internet users into downloading worthless and at times even potentially malicious programs. Your best bet to keep your operating system fully functioning at all times is by running a reliable antimalware tool because it can identify any questionable behavior on your system as well as it can warn you about any suspicious downloads in advanced.
If you are a security-conscious user, the complete removal of TheBrowser is imperative. Make sure not to leave any traces of it as they could be just as annoying as the potentially unwanted application because they could be used to silently restore the intrusive program as well as they could be used by other dubious programs to enter your PC in a quick and easy manner. To be sure that every single bit of this potentially unwanted program has been terminated, we advise you to go through %APPDATA% and %LOCAL% folders as traces tend to reside there. Besides that, you should check your whole registry system since such invasive programs often spreads itself there. By completing all these tasks, you will be sure that this application has been removed entirely.
How to remove TheBrowser from your operating system
Windows Vista and Windows 7
Click Windows button.

Select Control Panel.
Click the Uninstall a program option.
Select TheBrowser and click Uninstall.
Windows XP
Click Start.
Select Control Panel.
Click Add or Remove Programs.
Uninstall the unwanted application.
Windows 8
Move the mouse pointer to the lower-left corner of the screen.
Right-click.
Select Control Panel.
Click Uninstall a program.
Right-click the unwanted program.
Select the Uninstall option.
Windows 10
Right-click the Windows button.
Select Control Panel.
Click Uninstall a program.
Double click TheBrowser.
Confirm that you want to remove it.
In non-techie terms:
Make sure to follow the instructions that we provide below if you happen to find manual removal and analysis of your operating system too complicated. The alternative method will help you delete this potentially unwanted program in an automatic manner.