Do you know what The Maintenance Software is?
The Maintenance Software is a suspicious program that shows pop-ups and commercial ads on the Internet Explorer, Mozilla Firefox, and Google Chrome browsers. It does not seem that the software has its own official site, so there is not much information about it. Specialists say that users might receive the application accidentally while installing other freeware programs. If you did not want it in the first place either, we advise you to remove the program. Mainly because it's advertising content could redirect you to harmful web pages. Also, since it shows ads and does nothing else, the software appears to be useless and not worth for you to risk your computer's safety. The article should provide you with useful information, but if you cannot wait to get rid of the application, scroll below and use the removal guide.
To begin with, our researchers tested The Maintenance Software in our internal lab and found out that it only displays ads while it runs in the background. At this point, it was decided that the software should be classified as adware. The program does not seem to have Privacy Policy or End User License Agreement (EULA) documents either, so it is hard to tell what the primary purpose of the application is.
However, based on the activities it does on user's computer, it is most likely that the adware was created to show third-party ads. By doing that, The Maintenance Software helps to advertise third-party web pages or increase traffic to them. Usually, adware's creators receive a particular sum of money, which could differ based on your activities on the third-party web page. For example, your click could generate smaller reward, but if you purchase something or sign up on the site, the program's creators could receive more advertising revenue.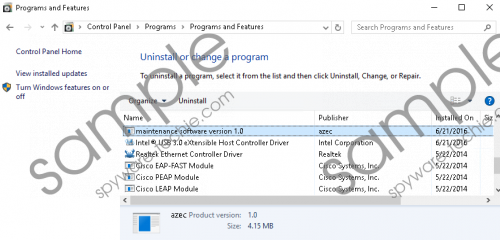 The Maintenance Software screenshot
Scroll down for full removal instructions
The advertising content on your browsers should belong to the third party. For example, the application could display the following websites on your browser: oqxzz.super-promo.axaxh.com, p92mygames.com, shrinklinker.com/6312498, and other. Even without EULA statements, it is most likely that the application's creators do not review the sites they advertise. It would not surprise us if some of the promoted web pages could contain malware, e.g. Trojans, worms, and so on. Another risk with The Maintenance Software is that either the adware itself or its third-party partners could try to gather your private data. Since the adware does not provide Privacy Policy, you should be very careful because you cannot be sure if it will not collect sensitive data without your knowledge.
If you do not want to install adware or other suspicious applications in the future, you should know how it is usually spread. The Maintenance Software should be bundled with freeware applications, e.g. Tuto4PC. Often users find such programs on unreliable file-sharing web pages that provide freeware. Sadly, this freeware is often bundled with potentially unwanted programs, adware, browser hijackers, and so on. Thus, our advice to users would be to download software only from trustworthy sources and carefully review all terms on the setup wizard.
The good news is that it should not take long to erase The Maintenance Software. It has a working uninstaller, so users can delete it through the Control Panel options. The removal guide below will explain to you how to use this tool and get rid of the adware. However, if you want to clean your system too, it would be easier to download a trustworthy antimalware tool and do a system scan. It can help you track other malware or suspicious software on your system. Needless to say, that the tool would allow you delete the application or other threats easily too.
Eliminate The Maintenance Software
Windows 8\Windows 10
Press Win+R, type Control Panel and press OK.
Select Uninstall a program.
Mark the adware and click Uninstall.
Windows Vista\Windows 7
Navigate to Start menu.
Open Control Panel and click Uninstall a program.
Select the application and press Uninstall.
Windows XP
Go to Start and open Control Panel.
Pick Add or Remove Programs, select the application and click Uninstall.
In non-techie terms:
The Maintenance Software is a worthless program that only shows annoying ads and disturbs user's browsing. What is even worse is that these ads might redirect you to harmful web pages that could distribute malware or gather user's personal data. Thus, users should not take any chances with the application and remove it as soon as possible. You can do that either with the instructions above or with a reputable antimalware software.