Do you know what The Coupon Store is?
The Coupon Store is a potentially unwanted program (PUP) that can also be considered an adware application or a browser hijacker. It depends on how you look at it. A potentially unwanted application is a program that exhibits potentially unwanted behavior or any other feature that users would not want to have on their system. Most of the time, PUPs get installed on target computers accidentally. Therefore, if it was not your intention to have this program on-board, you can always remove The Coupon Store following the instructions below. This is not a malicious infection, so it is not hard to delete it.
Why would anyone want to have this application? This program advertises itself as your next best friend when it comes to online shopping. So if you are an avid online shopper, you might feel inclined to use the program's services, especially if you find its official website online. As it is common with PUPs, the Coupon Store as an official homepage where you can read more about the program. The site can be accessed via thecouponstore.co. What's more, unlike adware programs that usually have fake homepages, this program actually has a working website, and even the download button works just fine.
Therefore, it is not exactly possible to classify The Coupon Store as a malicious infection. It is a genuine application with an official website where you can read more about its privacy policies, and so on. However, the homepage is not the only distribution source used by the program. In fact, it is far more likely that users will download and install this browser extension accidentally with freeware packages. Freeware packages or software bundles are commonly used for software distribution because users tend to download and install them without any second thought.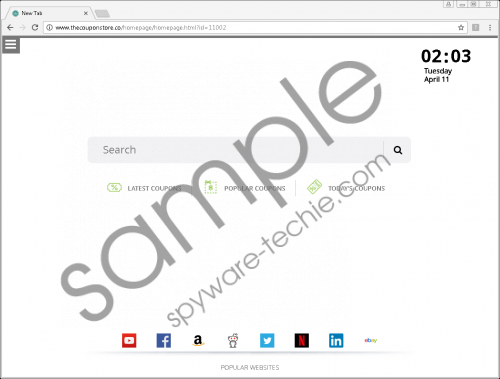 The Coupon Store screenshot
Scroll down for full removal instructions
If you have recently downloaded a new application from a third-party file-sharing website, there is a very good chance that this program came bundled with additional applications. And The Coupon Store might as well be one of them. Is it possible to avoid installing these additional programs? Very much so. If you check the installation wizard carefully, you should find the steps where the wizard offers you to deselect additional applications. Needless to say, going through the installation automatically is not a good idea because then all the unnecessary programs would be set up on your PC.
Now what happens when The Coupon Store is added to your browser? As you can probably tell, this potentially unwanted program functions as a browser extension. It is compatible with Chrome and Firefox browsers. When the extension is added to your browser, it starts collecting information on your web browsing habits because it needs to generate custom commercial advertisements. The program will tell you that you can get the best coupon and discount offers by clicking LATEST COUPONS, POPULAR COUPONS, TODAY'S COUPONS, and other buttons that are added to your browser. However, instead of offering you an original service, The Coupon Store redirects you to third-party coupon websites. So it means that if you are familiar with these sites, you do not really need this extension to redirect you there.
What's more, at the bottom of the page, this program also contains various shortcuts to popular websites, for example, YouTube, Facebook, Amazon, Reddit, Twitter, and so on. So it might seem that an extension with shortcuts to popular sites is a good idea, but you can actually add the same shortcuts to your browser's shortcut bar. In a sense, the service this extension offers is void. Therefore, there is no use to keep this application on your computer.
We should also remember that The Coupon Store and other similar applications can always be exploited by cyber criminals. They do not intend to infect you with malware, but sometimes the advertising space offered by these programs is misused by malevolent third parties. To avoid that, you need to remove The Coupon Store and all the other potentially unwanted programs at once.
Scan your computer with the SpyHunter free scanner to find every single undesirable application and remove them all automatically. You can also try deleting The Coupon Store manually, but if you do not feel confident about, you can always leave it to professionals.
How to Delete the Coupon Store
Chrome
Press Win+R and the Run prompt will open.
Type %LocalAppData% into the Open box and click OK.
Navigate to Google\Chrome\User Data\Default\Extensions.
Remove the lppphkdihepdibjclibocgniljgmmhmd folder.
Firefox
Press Win+R and enter %AppData%. Click OK.
Open Mozilla\Firefox\Profiles\[User ID]\extensions.
Remove the @thecouponstore.xpi file.
In non-techie terms:
At first glance, the Coupon Store will not look very dangerous. In fact, this application definitely tries to make you think that it can be something useful. However, it is necessary to remove the Coupon Store from your system, especially if you did not intend to have this extension. If you need more information about this intruder or how to protect your PC from other intruders, please leave us a comment below.