Do you know what TeslaCrypt Ransomware is?
TeslaCrypt Ransomware is an infection that acts very similarly to CryptoLocker, so it is necessary to remove it. Actually, researchers have noticed that it sometimes uses CryptoLocker-v3 name. Like the aforementioned ransomware infection, TeslaCrypt Ransomware seeks to extort money from computer users, so it is not surprising that it will encrypt different kinds of files with RSA-2048 key and then ask to pay a particular sum of money. Of course, many users want to gain access to their files and make a payment; however, we definitely not recommend doing that. If you wonder what you should do, we suggest that you remove TeslaCrypt Ransomware first and then recover encrypted files from a backup (e.g. USB flash drive).
If TeslaCrypt Ransomware enters your system, you will notice that your wallpaper has been changed and a message in a red window appears on your screen. These symptoms will disappear when you remove the infection. The message is placed on the screen in order to inform users that their files have been encrypted and they need to obtain the private key in order to decrypt them. We have tested this ransomware infection and found out that various files, including .pptm, .xlsm, .mdbackup, .syncdb, and .docx will be encrypted. .Ecc extension will be added to each of these files, so you will definitely know that it is the work of TeslaCrypt Ransomware. Our research has shown that many of these files belong to different games, which means that you will not only be able to access your documents and photos, but will also not open your favorite games. We understand that you want to gain access to all of your files; however, you should definitely not pay a required amount of money in Bitcoins because you will not only lose your money, but might not even receive the promised key. Unfortunately, files will still stay encrypted if you remove TeslaCrypt Ransomware, so we highly recommend that you recover them from a backup.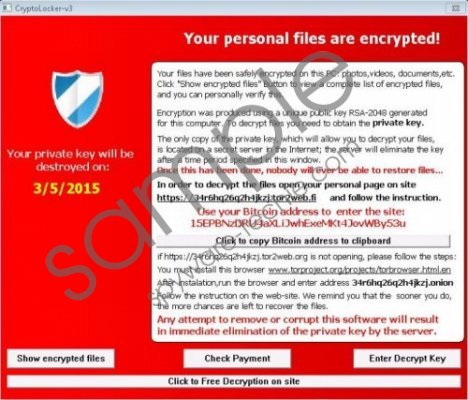 TeslaCrypt Ransomware screenshot
Scroll down for full removal instructions
The specialists working at spyware-techie.com have found out that TeslaCrypt Ransomware might temporarily kill such processes as msconfig.exe, cmd.exe, regedit.exe, procexp.exe, and taskmgr.exe, so it might seem that it will be very difficult to remove TeslaCrypt Ransomware. Luckily, processes recover soon, which makes it possible to install an antimalware tool and remove TeslaCrypt Ransomware rather easily. Our security experts claim that you might allow other infections that encrypt files, for instance, Cryptobot Ransomware, Cryptowall, and Cryptorbit to enter your system in the future as well. Remove them straightaway if you notice their presence. There is a huge possibility that they will enter your system if it is unprotected, you surf the Internet on a daily basis, tend to open various spam email attachments or click on ads that are placed on different websites. Keep in mind that it is difficult to remove malware, so it would be wise to install an antimalware tool.
You might want to remove TeslaCrypt Ransomware manually; however, you should know that the process is very difficult. In addition, you should be aware of the fact that files will still be encrypted even if you remove TeslaCrypt Ransomware. The easiest way to delete this infection is to scan the system with a trustworthy malware remover. We recommend using SpyHunter because we know that this security tool will detect and remove all the infections, including TeslaCrypt Ransomware, very quickly. What is more, it will protect your PC in the future; thus, it is very likely that you will not have to remove malicious software ever again.
How to remove TeslaCrypt Ransomware
Open your browser.
Visit http://www.spyware-techie.com/download-sph .
Download a security tool and install it on the system.
Perform a full system scan in order to remove TeslaCrypt Ransomware.
In non-techie terms:
It is very important to remove TeslaCrypt Ransomware not only because it is a serious threat, but also because it will auto start with Windows and might even perform undesirable activities behind your back, for example, there is a slight possibility that it will connect to the Internet without your permission. As can be seen, TeslaCrypt Ransomware is a dangerous infection, so it is necessary to remove it as quickly as possible.