Do you know what TermTrident is?
TermTrident promises to make your online searching and translating a lot easier, but that is all there is to this application. It is just as empty as its promises. We are forced to classify TermTrident as an adware program because the application simply promotes commercial content in order to generate financial profit for its developers. There is nothing illegal about it, but such applications never review the third-party content that is promoted in their ads, so in the worst case scenario you might be redirected to corrupted websites that distribute malware or leak personal information for online marketing purposes.
To put it simply, you have to remove TermTrident from your computer as soon as possible and while you are at it, you should take care of all the other unwanted applications as well. Why are we so sure you have some? Simple, this adware program cannot be downloaded from its official website. Termtrident.com only that this application is a "utility that makes searching and translating information you find online easy." The page does not have a direct download link, so we are left to conclude that TermTrident spreads in software packages. This assumption is confirmed by our research specialists who say this application usually gets distributed via the Amonetize installer.
If you have dealt with adware before, you will recognize this third-party installer immediately, because it also spreads around the Multiplug adware. This would also mean that there is a possibility that you have a Multiplug adware program on your system as well. As far as our research is concerned, it shows that TermTrident usually gets installed on target systems along with PicColor, VuuPC, PriceLess, and similar unwanted applications. We would also like to point out that TermTrident is not a malicious computer infection. You might as well think so because you definitively did not plan on having this application installed, but if it weren't for your permission the program, or the software package it came with, would not have been set up on your PC.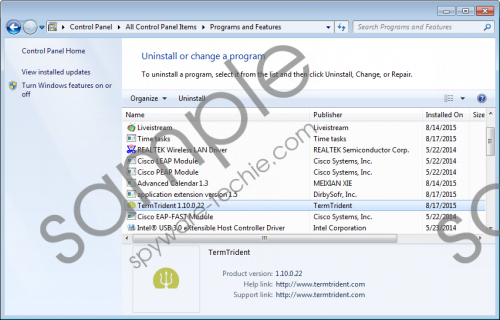 TermTrident screenshot
Scroll down for full removal instructions
This means that you need to be more cautious when you browse the Internet and when you click unfamiliar links. It might as well lead you to adware-related websites, and before you know it, your computer would be full of annoying applications that slow down the system and flood you with commercial ads.
This is exactly what TermTrident is going to do. This application uses tracking cookies to collect data on your web browsing habits. When it has enough information collected, the program generates a flow of customized commercial advertisements almost on any website you visit. You will feel urged to click the TermTrident ads because they will be related to your likes and preferences, but we would strongly recommend that you do not do that.
You can never know where these ads may lead you to. TermTrident is not responsible for the third-party content security, so even if the links in its ads redirect you to malware-related websites, the program would not be liable for that. Thus, you need to take your computer's security into your own hand and get rid of TermTrident right now. To put a final end to it, get yourself a powerful antispyware application and run a full system scan with it.
How to Delete TermTrident
Windows 8 & Windows 8.1
Slide the mouse cursor to the bottom right of your desktop.
When the Charm bar appears, click Settings and go to Control Panel.
Select Uninstall a program and remove TermTrident.
Windows Vista & Windows 7
Click the Start menu and open Control Panel.
Go to Uninstall a program and remove TermTrident.
Windows XP
Open the Start menu and select Control Panel.
Double-click Add or remove programs and uninstall TermTrident.
In non-techie terms:
TermTrident is a potential computer security threat because this adware program may be responsible for corrupted content distribution. You ought to remove TermTrident from your computer if you want to avoid potential security issues. For an alternative software removal method, you can refer to the secondary set of instructions below. Also, if you have any computer-securtiy related questions, you can always leave us a comment.