Do you know what Term Coach is?
You have located Term Coach on your computer and are probably interested in the origins and purpose of this program. Well, you got to the right place, as here you will learn everything about this adware application. At first, it could seem like a helpful one that will save your time looking for something on the Web. Just highlight any text you found online and the Wikipedia and Bing results will appear in an in-page window. However, you will soon grow impatient with Term Coach because it will flood you with ads. Moreover, the application could even be used for malicious intentions. These are good enough reasons to remove the program.
Let us elaborate a little more on the malicious intentions we are talking about. The website of Term Coach, located at termcoachapp.com, says that the application is free, so "in order to pay for servers and other expenses we show ads while you browse." Those ads will irritate you and disturb your browsing by generating traffic. On top of that, there may be wicked things hiding behind those advertisements. As you can find in the Privacy Policy of Term Coach, which is placed on the official site of the application, the program collects your traffic data. This data is used for marketing purposes, so you will be shown personally customized ads. In such a way, it will be more likely that you click on the ads. And this is where the worst may happen. You may find yourself on third-party websites that could be filled with malevolent content. Please pay attention to what is stated in the Terms of Service of Term Coach and decide whether it is worth keeping a program that will take no responsibility for any possible dreadful outcome of its utilization or not:
TermCoach will not be responsible or liable, directly or indirectly, for any loss or damage of any sort arising out of or related to use of or reliance on any such content, goods or services available on or through any Linked Site.
The fact that Term Coach got onto your computer unnoticed also speaks for the removal of this program. As we have already found, the official site of this application contains much useful information but lacks an important thing: the download button. Our researchers have found that Term Coach is distributed via the Amonetize installers. This means that like its clones, WordShark, TermTutor, QuickSurf, and many others, Term Coach came bundled with the free software you have downloaded. The bad thing is that the same bundle might have contained a number of unwanted programs as well. Our research team says that PriceLess, PiCColor, and VuuPC, are the programs that usually come with Term Coach. Do not allow any possibly unwanted programs to stay on your computer any longer.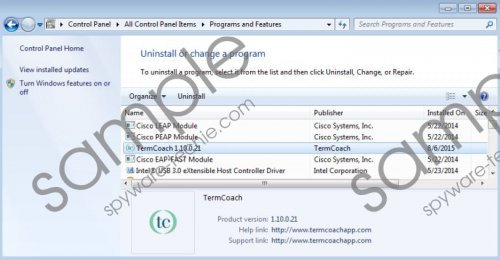 Term Coach screenshot
Scroll down for full removal instructions
Luckily, it is quite easy to eliminate Term Coach even if you are not an experienced computer user. Access the Control Panel and get rid of the unwanted application. If you are not sure of yourself, our guide will make your task a piece of cake. However, if your computer is infected with more dangerous threats, the manual removal would not work. You will have to use a professional antivirus tool. Scan your system with it, locate all the dangers and eliminate them.
How to remove Term Coach manually
Windows XP
Access the Start menu and open Control Panel.
Go to Add or Remove Programs.
Uninstall Term Coach.
Windows 7 or Windows Vista
Open the Start menu.
Find and open Control Panel.
Go to Uninstall a program.
Locate and eliminate Term Coach.
Windows 8 or Windows 8.1
Navigate your mouse to the bottom right corner of your screen.
Click on Settings in the appeared Charm bar.
Select Control Panel.
Go to Uninstall a program.
Delete Term Coach.
In non-techie terms:
Term Coach may seem like a useful application as it allows you to enhance your searching experience in some way. However, the program was created to generate profit for its developers, and this is done at your expense. You will encounter the ads leading to third party websites each time you use the Internet. Those ads are not only irritating, clicking on them could result in consequences harmful to your computer. So, follow our instructions and remove Term Coach.