Do you know what Temperature Scout is?
Temperature Scout is an advertising-supported application (adware) that pretends to be really useful. Our specialists have visited its official website and noticed that this program promises to keep users informed about the temperature in their area. If you visit its official website (temperaturescout.com) too, you will find out very soon that Temperature Scout "automatically detects your location and displays the current temperature for your area in your desktop tray." It really seems to be a beneficial application, so that is why users install it on their systems. We cannot say that this program does not do anything that it promises; however, we still do not think that it is worth keeping it installed because this program is going to display commercial advertisements. It is very likely that it will not start doing that immediately because it needs to gather data about users' activities on the web to provide the most relevant ads.
Temperature Scout does not try to hide the fact that it is ad-supported. Of course, you will not find such information on the main page of its website; however, there is a sentence claiming that this program might show ads in the Terms of Use. The company that has published Temperature Scout states that it "assumes no responsibility for the content, privacy policies, or practices of any Third Party Content and Services." It means that there is a possibility that unreliable links are integrated into ads and thus you might be redirected to corrupted websites very quickly. It might be enough to click on a single advertisement. Of course, we cannot say that all the ads will cause harm to your PC, but you should be really cautious. In our opinion, it would be better if you completely erase Temperature Scout because you might click on its ads accidentally. As you can see, even though adware programs are usually not dangerous, their ads might cause harm to the system very quickly.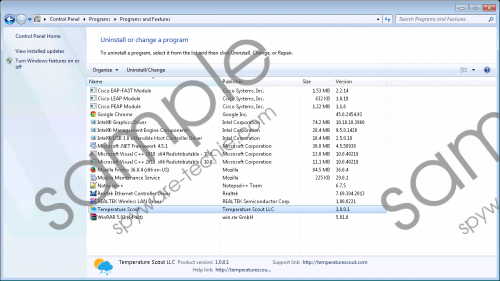 Temperature Scout screenshot
Scroll down for full removal instructions
This program does not install extensions to browsers, but it will use a service to perform its activities. Thus, it is very likely that you will find a new process in the List of Processes after you install this program. As you already know, Temperature Scout will show ads, but it is not all it is going to do. Research carried out by our specialists has shown that advertising-supported applications record various details about users, mainly, their browsing activities. It is very likely that they use the collected details to show relevant ads. Some specialists say that Temperature Scout might connect to the Internet too. It is up to you whether to allow it to do that or not. In case you want to put an end to this, you should know that the quickest way to do that is to delete Temperature Scout.
The removal of Temperature Scout will not be difficult at all if you follow our step by step instructions placed below. Of course, the manual removal needs some effort and time. If you do not want to waste any of these, you should use an automatic malware remover for this matter. We recommend installing the SpyHunter antimalware suite because we know that it will not leave any threat on your PC.
How to get rid of Temperature Scout
Windows XP
Click the Start button.
Select Control Panel and click Add or Remove Programs.
Select the unwanted software and click Remove.
Windows 7 and Vista
Open the menu and select Control Panel.
Click Uninstall a program and right-click on Temperature Scout.
Click Uninstall.
Windows 8/Windows 8.1
Start typing Control Panel with your keyboard after you access the Metro UI.
Open it and select Uninstall a program.
Right-click on this adware program and click Uninstall.
Windows 10
Tap the Windows key + X.
Select Control Panel.
Locate Programs and click Uninstall a program.
Select the unwanted application.
Click Uninstall.
In non-techie terms:
If you erase Temperature Scout manually, do not forget to check and to get rid of other unwanted programs that might have entered your system previously or managed to enter your system in a bundle with Temperature Scout. The easiest way to remove them is, of course, to scan the system with an automatic tool, but it is, of course, up to you how to eliminate them.