Do you know what TasticSurf is?
TasticSurf is a browser add-on that is supposed to enhance your browsing experience by delivering various advertisements to you. The application is promoted at tasticsurf.net, but at the moment of writing, the page cannot provide you with the installer of the application. TasticSurf is also distributed by freeware installers, and, if you want to avoid this or any other adware program, always pay attention to the information that you are provided with by the installer. TasticSurf is regarded as an adware program and is identical to Fortunitas, GoingGo, WebSpades, Browse Mark, Web Flipper, and many other applications developed by SuperWeb LLC. All these programs, including TasticSurf, can be removed from the computer by spyware removal tools, so if you want to get rid of TasticSurf in no time, act right now.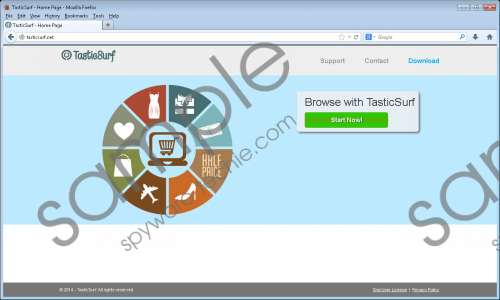 TasticSurf screenshot
Scroll down for full removal instructions
TasticSurf can display advertisements on numerous websites; however, the content of the advertisements may have nothing in common with the content of the website that you are browing. When browsing commercial websites, you may find web banners or pop-up advertisements inviting you to scan the computer, play online games, update computer applications, answer some quiz questions, and the like. There are many scam websites, which seek to obtain computer users' money or acquired their personal information, and adware programs are one of the means to promote those scam websites. If you do not want to be deceived into downloading an unreliable program or subscribing to some service via your phone, you should ignore TasticSurf pop-ups and remove the adware program from the PC.
The majority of the web banners and other advertisements may be out of your interest, which is one of the reasons why you should remove TasticSurf. Another reason for eliminating the application from your computer is the program's capability to monitor you. It may read your browsing history and record your search terms, click, impressions, and other anonymous information that can be acquired from your browsers. Adware programs collect information about computer users for advertising and marketing purposes and may also share information about users with third parties. The websites to which you are taken by TasticSurf may also be interested in your browsing patterns and may monitor your online behavior.
In order to put an end to the actions of TasticSurf, you should remove it from the browsers as soon as you can. Our removal guide given below should help you uninstall the system, but bear in mind that it is worth scanning the system afterwards, especially if the system is not protected against malware and spyware. If you want to save your time, you should implement SpyHunter, which will remove TasticSurf and, most important, will safeguard the system against computer threats.
How to remove TasticSurf
Windows Vista and Windows 7
Click Start.
Select the Control Panel option.
Remove the adware program.
Windows 8
Move the mouse to the lower-left corner of the screen.
Right-click and select Control Panel.
Click Uninstall a program.
Remove the unwanted application.
Windows XP
Click Start.
Select Control Panel.
Click Add or Remove Programs.
Uninstall the unwanted adware program.
In non-techie terms:
TasticSurf is an adware application which can display web banners, coupons, in-line advertisements, and pop-up ads to make you visit as many websites as possible. We recommend that you remove TasticSurf from the computer because some of the websites advertised by this application may be unreliable. In order to get rid of the adware program, use our removal guide or implement a powerful spyware removal tool.