Do you know what Tapxchange.com is?
Tapxchange.com is one more suspicious program that has been roaming the web lately. If you happen to encounter this dubious application, you must know that it should be avoided at all times. This is so because this piece of software turns out to be just another browser hijacker that will ruin our online activity as soon as it gains access to your operating system. The invasive application in question was classified this way because it exhibits numerous questionable, invasive, and at times even potentially malicious features. Do not trust anything that this hijacker might present you with as it could have devastating consequences, to put it mildly. Make sure to read the rest of this report and learn how exactly Tapxchange.com functions and what are the main reasons we firmly advise every user to remove it. Along that information, we provide a removal guide that was crafted by our malware experts to help you delete this hijacker as quickly as possible.
In many ways, Tapxchange.com works like other browser hijackers of today. Just like the majority of such infectious program the hijacker in question will alter your default search engine and homepage without any warning. This, it goes without saying, that these modifications will affect your browsing experience in a negative way. Since the hijacker will force you to use the new search engine and homepage even if you do not want to. Such activity will make surfing the web the way you are used to almost impossible. It is also important to note the fact that this hijacker at times could present you with numerous ads and pop-ups. As it turns out, the malicious application initiates various connections to adware servers, which are the primary source of all unwanted third-party web content. At times, you might be flooded with so much unwanted content that surfing the web count even become virtually impossible. By executing a complete removal of Tapxchange.com will help you regain the standard functionality of your web browser.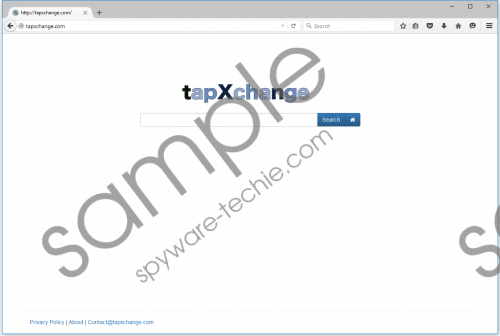 Tapxchange.com screenshot
Scroll down for full removal instructions
In addition to being annoying Tapxchange.com could turn out to be quite malicious as well. During our investigation, we have exposed the fact that the questionable search engine might provide you with modified third-party search results. You could come across results that might contain redirect links within them, which is an extremely dangerous instance because by just clicking on such a result you risk of exposing your PC to suspicious or even malicious web content. For example, you could end up on a fake online shop that cyber crooks create for one reason only – to steal your credit card data. It should be more than obvious that such potentially malicious activity could have disastrous consequences. To avoid such outcomes make sure to completely delete Tapxchange.com from your operating system right now.
Do not take any chances with Tapxchange.com and make sure to remove as soon as possible as it is a major virtual threat. You should follow the instructions carefully because even one mistake could mean that the hijacker was no removed entirely. If this happens and some traces of Tapxchange.com remain active on your PC, you should know that in some case the invasive hijacker could silently restore itself. To avoid such situation, you should check your computer for traces related to the hijacker once the manual removal has been executed.
How to remove Tapxchange.com from your browser
Internet Explorer
Start your web browser and then tap Alt+T.
Select Internet Options.
Open the Advanced tab.
Click Reset.
Mark Delete personal settings and then click Reset again.
Mozilla Firefox
Launch your browser.
Simultaneously tap Alt+H.
Select Troubleshooting information.
Click Reset Firefox.
Clickthe Reset Firefox button to confirm the process.
Google Chrome
Launch your browser and simultaneously tap Alt+F.
Select Settings.
Click Show advanced settings.
Click Reset browser settings and click the Reset button.
In non-techie terms:
Do not worry if you find manual removal too complicated since our malware experts have crafted an alternative removal guide. We provide it below. Feel free to use it since it will help you delete Tapxchange.com in an automatic way. By using this removal method you will be sure that every single bit of this hijacker was removed from your PC.