Do you know what Tank Runner is?
Have you been tricked into downloading Tank Runner thinking that it could help you play an online game? Even though it might have worked in the past, it appears that this extension is no longer supported by its developer, and so it holds no value. That, however, does not mean that you should ignore this PUP (potentially unwanted program) because there is a great chance that it was created to perform in a silent manner as well. For example, it could be employed to track and leak information. There is also a possibility that this seemingly non-invasive add-on could be used to inject advertisements on the sites you visit. In reality, it is very hard to say how this PUP works because it is not represented in an official manner. That is only one of the reasons to delete Tank Runner from your browser. At this time, it appears to affect Google Chrome only, and that is reflected in the removal guide below.
The installer at chrome.google.com/webstore/detail/tank-runner/inekmbckpbelolihfcaoiicgnbhcndbd representing Tank Runner has been taken down. So has zjsbsj.com, the website that, allegedly, was promoting the extension. What does this mean? First of all, this means that the PUP has been either disabled by its own creator or that it was removed by the administrator of the Chrome web store. It also means that we cannot review the Privacy Policy and other information that might had been available. This is not that surprising, especially since Toothy is represented in the exact same way. While the installer websites are different, both of these potentially unwanted programs were posing as games, and both were linked to the same adware server, onclickrev.com/afu.php?zoneid=1407888&var=1407888. While this adware server is not promoting these PUPs right now, it is still promoting sites of e-commerce, gambling, loans, games, and other suspicious content.
Redirecting via the onclickrev.com adware sever is almost invisible, and you might not understand what is going on at all, but if you keep getting redirected to suspicious sites without your permission, there is a great chance that malware or ad-supported software active on your PC is connecting to this adware server without authorization. If that is the case, redirecting to potentially unreliable sites will stop only if you delete the software that is responsible. According to the analysis by our research team, Tank Runner could be introduced via this unpredictable adware server in an aggressive manner. The installer could show up via a page that is in full screen, which might trick you into thinking that you must install the PUP. This suspicious extension could also be spread by third-party installers along with other unreliable, removal deserving threats and programs. Clearly, the distribution of this add-on is very questionable.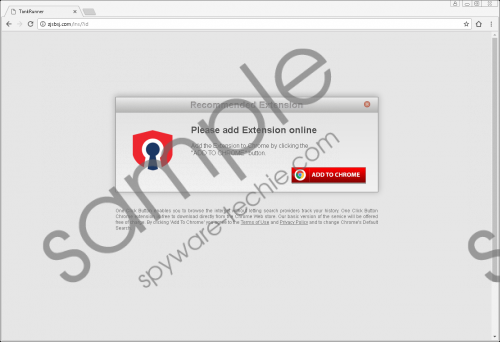 Tank Runner screenshot
Scroll down for full removal instructions
Are other infections or potentially unwanted programs active along with Tank Runner? Do not say that they are not if you cannot see them. Install a trusted malware scanner and use it to check if you need to worry about anything else besides the PUP. If you discover malware, consider using anti-malware software. If you are experienced with unwanted software, and the threats detected do not seem scary, you might be able to get rid of them yourself. Start by removing Tank Runner, which you can do using the guide below. After you eliminate all infections, perform a full system scan again just to check if it is now clean. Do not cease until all threats are gone.
Delete Tank Runner from Google Chrome
Launch the browser and enter chrome://extensions/ into the address bar.
In the Extensions menu find the unwanted add-on and click the recycle bin button on its right.
Select Remove and then immediately perform a full system scan.
In non-techie terms:
Whether or not you were forced to install Tank Runner, this potentially unwanted program cannot be ignored. At the moment, its developer is in hiding, and it is unlikely that the extension can serve you in a reliable manner. If you discover this PUP, the chances are that you will discover more threats on your PC, and we recommend using a malware scanner to confirm this. If the detected threats are complicated, using an anti-malware tool might be best. If you believe you can get rid of existing malware manually, make sure you are careful. Afterward, scan your operating system with a legitimate malware scanner to check if you were successful.