Do you know what Takethecoupon is?
Takethecoupon is an adware program from coupon family. It means that when this program enters your system it starts displaying commercial coupons. These coupons appear on your web browser when you access online shopping websites. Although Takethecoupon is not an extreme computer threat, it is not recommended to keep it on your system. Coupon adware programs can present a variety of system threats, and you should not ignore them. Therefore, remove Takethecoupon from your system the moment you have a chance. For full protection, do not forget to scan your computer with a powerful antispyware tool.
This is not the first time we encounter adware applications like Takethecoupon. In fact, this program is very likely a clone of other coupon applications, such as DownSave, Isaver, BestSaveForYou, AllCheapPrice and many others. The distinct feature of these applications is that they generate the name at random upon the installation. Takethecoupon also creates extensions with random names (TAkeTheCOuoPon), and the program's file names are also random.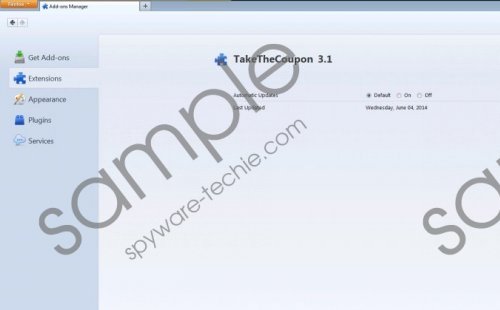 Takethecoupon screenshot
Scroll down for full removal instructions
What is more, Takethecoupon uses JustPlug.it extension engine and InstalleRex-WebPick installer. This feature is common to all coupon adware applications from the same group. Another common feature is that these programs do not have direct download links or homepages. As such, we can conclude that Takethecoupon comes only in bundles.
The most common way to distribute bundled adware applications is fake Adobe Flash and Java update installers. When a user enters an adware-supported website, he or she is very likely to face a lot of pop-ups that offer to download media players or codec updates. Computer security experts always stress that program updates should be downloaded at official websites only. The reason is that third-party websites often distribute adware via these fake codec and media player updates. Thus, if you click such a link, you will most probably download Takethecoupon onto your computer.
What is more, Takethecoupon extension may display a lot of commercial pop-ups and discount offers on online shopping websites that can slow down your browser. Not to mention, that no one can be sure those coupons are 100% safe. Malicious third-parties often misuse such programs as Takethecoupon to promote their corrupted content. Before you even known it, you could end up installing dangerous applications that would wreck your system.
Therefore, you must remove Takethecoupon right now. Due to the fact that this application travels bundled with similar programs, there is a high chance that you have other unwanted programs installed on your PC. To make sure of it, scan the PC with SpyHunter free scanner and then terminate all the dangerous files and programs for good.
Manual Takethecoupon Removal Guide
Windows 8
Drag mouse cursor to the bottom right of your desktop.
When Charm bar appears click Settings and go to Control Panel.
Open Uninstall a program and remove Takethecoupon.
Windows Vista & Windows 7
Open Start menu and click Control Panel.
Click Uninstall a program and remove Takethecoupon.
Windows XP
Click Start menu button and navigate to Control panel.
Select Add or remove programs and uninstall Takethecoupon.
For more thorough removal, you can refer to the secondary removal instructions below this description.
In non-techie terms:
Takethecoupon is a program that should not be on your PC. You have to remove all the adware applications from your system and ensure that you stay away from websites that promote such programs in the future.