Do you know what Takeitnow.club is?
Takeitnow.club is a domain you might be redirected to one day from an untrustworthy third-party page. There is a bunch of websites out there which might redirect you straight to this domain, but it seems that the majority of users end up on it after visiting http://911docs.net. This website is not popular, so our experienced specialists believe that users are taken to it after clicking on an untrustworthy link. It then further redirects them to Takeitnow.club. This domain only promotes a Google Chrome browser extension Fontfully. In most cases, this domain is opened for users in the full-screen mode, so they click on the Add extension button trying to close this window and, as a consequence, end up with a new extension. Of course, they usually do not even know that they have allowed a new piece of software to enter their computers. The promoted extension is compatible with Google Chrome only, and it promises to make it possible to change fonts on websites users visit; however, our specialists cannot confirm that it is safe to have this active extension on the system because it is known to be a potentially unwanted program (PUP).
Users can willingly download the Fontfully extension from the Chrome Web store (https://chrome.google.com/webstore/detail/fontfully/ojoooakbpjekmmdnalbmcdnmggambgki?utm_source=chrome-app-launcher-info-dialog); however, since this piece of software is not very popular yet, our researchers believe that the majority of users do not download it willingly. Instead, they click on the Add button located on Takeitnow.club opened for them. This extension is surely not a harmful malicious application, and it can also be deleted rather easily, so do not worry too much if you see it in the list of Add-ons. The description of the Fontfully extension says that it will make it possible to change the font on websites users visit. Our team of specialists has tested it in the lab to find out whether it acts the way it promises, and they can now confirm that this extension works well. Sadly, this still does not make it a fully trustworthy program because it has one serious drawback. Research has shown that this application might collect information about computer users. We could not find its Privacy Policy, so it is impossible to say what details it records exactly; however, in the opinion of our experienced specialists, it should mainly gather the non-personal information associated with users' activities and interests. On top of that, it might be interested in technical details, e.g. the version of the Windows OS running on the system. Without a doubt, an ordinary user cannot change how this potentially unwanted application acts, but he/she can certainly disable it if its presence is undesirable.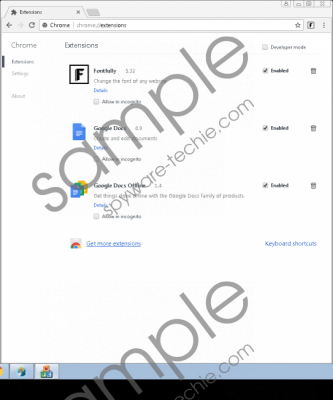 Takeitnow.club screenshot
Scroll down for full removal instructions
Takeitnow.club is a domain promoting Fontfully, a browser extension, as you, most probably, already know. Users do not open this URL by entering it in the address bar of their default browsers. Instead, they usually end up there against their will because they open some kind of untrustworthy web/click on an untrustworthy link redirecting straight to Takeitnow.club. This domain promotes only one potentially unwanted application, which suggests that it might be administered by the developer of Fontfully. A bunch of different distribution methods is adopted these days by untrustworthy software developers, so the chances are high that you will encounter one day a much more serious threat if you do not do anything to protect your PC from malware. You can promise us to be more careful, but, to be frank, we do not think that this would help to avoid malware, especially if you are an inexperienced user, so we recommend installing a security application on the system instead.
It is not a huge problem if you have already installed Fontfully because it can be eliminated via Add-ons Manager like any other ordinary browser extension. To make it even easier to delete it, we have asked our experienced team of specialists to prepare the removal guide. They have gladly done this job – find the removal instructions right below this paragraph. We are sure you will find them helpful.
How to delete Fontfully
Google Chrome
Double-click on the shortcut of your browser to open it.
Press Alt+F simultaneously on your keyboard.
Click More tools.
Click Extensions.
Select the extension you wish to delete and click the Recycle bin button.
In the removal confirmation window, click Remove.
In non-techie terms:
There are hundreds of untrustworthy websites redirecting automatically to pages promoting undesirable software, so we want to give two pieces of advice to you so that it would be easier to ensure the maximum system's protection. First, stop clicking on suspicious links and opening websites you know nothing about. Second, keep your security application enabled 24/7/365. In case you miss malware, it will prevent it from entering the system for you.