Do you know what TabNewSearch.com is?
If you find TabNewSearch.com in your Google Chrome browser when searching the web, it is quite possible that you have installed a potentially unwanted program (PUP), Install Assistant, recently, or you have let a whole bundle of malware infections onto your computer. In any case, the presence of this unreliable search engine is not a good sign. Since it can change your browser settings, our researchers have classified it as a browser hijacker. It does not mean that it always acts without your permission or knowledge. Even if it makes these changes with your approval, this type of malware infection is called a hijacker. This search page may introduce you to unreliable third-party web content, which in the worst case may result in your being scammed by cyber criminals. Therefore, you should not take this infection lightly, not to mention the possibly related threats that may come on board with this hijacker. We suggest that you remove TabNewSearch.com as soon as possible. If you fail to do so, you may let more malware infections on board or become the next victim of an online fraud.
There are mainly two ways for this useless browser hijacker to show up on your computer. First, it used to be mainly distributed with a PUP called Install Assistant, as we have already mentioned. This program used to be available through its promotional page, downloadwrap.com, and the Chrome webstore, chrome.google.com/webstore/detail/install-assistant/cdiimmedagmjminmhjcmmgiabmicmnif; however, our researchers have found that this PUP can no longer be downloaded. The reason is quite simple: Chrome has realized that this is a potentially harmful program, so it has got blocked. In order to spread this browser hijacker the creators has to use an alternative method obviously.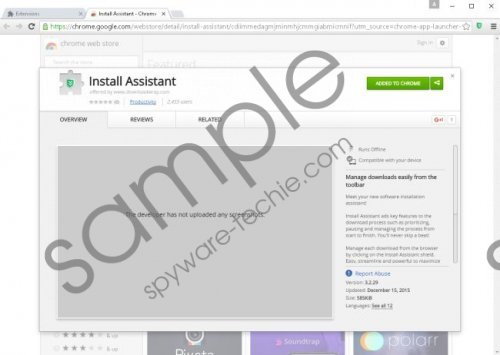 TabNewSearch.com screenshot
Scroll down for full removal instructions
This alternative is most commonly the so-called software bundling. The problem with bundled applications, though, is that they may be packed with PUPs and malware infections, such as browser hijackers, Trojans, and adware applications. Such malicious bundles can be downloaded when you land on unfamiliar and unreliable websites related to file sharing, including freeware and torrent sites. You are better off staying clear away from such pages because they host a number of unsafe third-party banner and pop-up ads. If you click on any unsafe content, you may download such a "surprise" package. If that happens or you are in doubt, you should scan your system with a reliable online malware scanner to find all the possible threats, but first, you should delete TabNewSearch.com.
If you click on the Privacy link on this search page, you will be a bit confused to find yourself on the privacy policy page of another PUP called DownloadBoss (getdownloadboss.com/privacy/index.html). As it happens, this PUP was created by the same company, Discover Browser Media, as the one that used to spread this browser hijacker. DownloadBoss seems to promote an actual clone of this search engine and it is called Searchnewtab.com. Any resemblance? We certainly find so. You should not trust or keep any of these applications. This browser hijacker may put your virtual security at risk by presenting to you potentially modified search results. According to our researchers, this hijacker uses redirection to bing.com. But you should not be misled by finding yourself on an otherwise reputable search page. As a matter of fact, this hijacker may inject affiliated third-party ads and links into these search results pages thus promoting affiliates and generate money. However, these ads and links may not be trustworthy all the time. There is a chance that cyber criminals try to reach out to you through these in an endeavor to lure you onto their malicious websites. One wrong click and you may infect your machine with more malware programs or end up being scammed in other ways. We do not think that this is what you wish to experience in the future. Therefore, you should remove TabNewSearch.com right now.
You will be glad to hear that eliminating this threat source does not require a PhD in Computer Science. In fact, it is very easy. All you need to do is reset your Google Chrome. This should leave no leftovers. If you have never done this before, please use our instructions below as a reference. If you want effective protection for your PC against malware infections, we advise you to download and install a decent anti-malware application. Keep this security tool regularly updated for best performance and full protection.
Remove TabNewSearch.com from your browser
Google Chrome
Tap Alt+F and go to Settings.
Scroll down and click Show advanced settings.
Scroll down and click Reset settings.
In the pop-up, press Reset.
In non-techie terms:
TabNewSearch.com is a questionable search engine that seems to mainly spread along with a potentially unwanted application called Install Assistant. Since this unwanted program has already been blocked Google Chrome, it is quite likely that this search tool also travels in free software bundles. Since this tool can change your browser settings, our researchers have categorized it as a browser hijacker. This hijacker only appears to affect Google Chrome, but its presence is undesirable even if you prefer to use other browsers. We recommend that you remove TabNewSearch.com as soon as possible along with all other potential threats you may detect on your computer. If manual removal is out of the question for you, we suggest that you install a reliable anti-malware application, such as SpyHunter.