Do you know what Tables is?
Tables is considered to be an adware as the application has no other functions besides injecting third-party advertisements while you are browsing. Thus, if you happen to notice annoying ads coming from unknown sources, you probably accidentally installed this questionable extension. Further, in the text, we will explain to you how it may have happened and tell you how you could avoid such mistakes in the future. Additionally, we will talk about the adware's working manner and risks that could arise from interacting with its displayed advertisements. Before we begin, we should mention there will be a removal guide placed below the main text, so if you do not want to keep this extension any longer, we encourage you to slide below and learn how to eliminate Tables.
At the moment of writing the application is compatible only with Mozilla Firefox and Google Chrome. Nonetheless, you will not find it on Firefox Add-ons web site or Chrome Web Store site. Our researchers report it does not even have a homepage where users could download it. Still, the extension somehow finds its way into the users' computers.
While testing the application we learned that Tables is being spread via bundled installation files. Therefore, if you downloaded the adware without even realizing it you probably did not see it being suggested on another program's configuration wizard. For the computer's safety, we recommend choosing advanced installation settings so the user could review all terms and deselect unreliable software suggestions. To identify untrustworthy applications, users should read expert reviews, look for ratings, information about the publisher, etc. If taking precautions does not seem enough, you could also employ a reliable antimalware tool that would detect threats for you.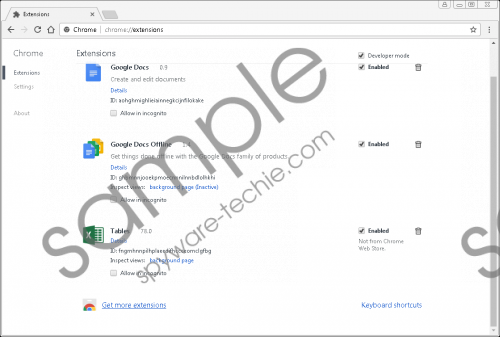 Tables screenshot
Scroll down for full removal instructions
From the moment you install Tables, it should start connecting to go.oclasrv.com/afu.php?zoneid= website. The site is known to be an adware server, so the application should use it to get advertisements that it may later inject into the web pages you visit or open them on top of them. We cannot say how frequently such content could be displayed, but it looks like it might vary for each user depending on the area he is located in. What's more, it seems the ads should be clickable, and while doing so, they may redirect the user to third-party web pages. We do not say all of them might be harmful, but some part of them could be malicious, and if you happen to visit such sites you might expose the system to threats. Besides catching an infection, the suspicious third-party ads may also redirect users to sites that could try to steal their sensitive data, convince them to install more threats alike, etc.
All things considered, it seems to us Tables is an entirely useless application for anyone who cannot stand irritating third-party advertising. Plus, it looks like it might introduce the user to possibly harmful content. Naturally, we recommend deleting the extension if you do not want to take any risks. There are two ways to eliminate the adware. Firstly, you could try to erase it from the browser's extensions settings as it is explained in the removal guide provided a little below this text. The other way to deal with the application is to employ a reputable antimalware tool and use automatic features to deal with the threat.
Delete Tables
Mozilla Firefox
Tap CTRL+SHIFT+A.
Click on Extensions.
Locate the extension named as Tables.
Select it and press Remove.
Google Chrome
Press ALT+F and open Settings.
Choose More tools and click on Extensions.
Locate the adware and click the recycle bin button.
Select Remove.
In non-techie terms:
Tables is an adware application targeted at Google Chrome and Mozilla Firefox users. If you happen to be one of them we encourage you to erase the extension as soon as possible since keeping it on the computer could be risky. As it appears to be there is a possibility some part of the ads this application may inject while the user is browsing might come from malicious web pages. It means you could be redirected to harmful sites if you click them. Of course, the damage the user might receive would depend on the site and his further interaction with it. Thus, whether you want to keep the system secure or simply get rid of irritating advertising content, we advise you to remove the adware with the instructions located above or with a reputable security tool.