Do you know what SysWeatherAlert is?
SysWeatherAlert is an application that should be removed from the system immediately despite its promises to enable users to "get weather updates." You should erase this program from your system even though it claims that it is "the best online channel for weather" as well. The reason why we suggest getting rid of this software is quite simple – SysWeatherAlert is a completely useless application that does not work at all. In other words, we are sure that it will not do anything beneficial. It is very likely that its main goal was to convince users to download it by pretending to be a useful application for checking the weather forecast. As SysWeatherAlert is a completely useless program, you should erase it right now if you are sure that it is installed on your computer. If you let it stay, it might not only display tons of annoying commercials for you, but might also expose you to potential threats. The only way to make sure that it cannot cause harm to your PC is to delete this program from the system.
As the Download button is not working on the official website of SysWeatherAlert, it is very likely that this program tends to sneak onto computers rather secretly as well. Our specialists are sure that this program does not always inform users that it is going to enter, which explains why users do not know when and how it appeared on their computers. Actually, it is quite hard not to notice the presence of this program because it adds its main folder to %PROGRAMFILES% (%PROGRAMFILES(x86)%) and also creates a Value ProcessSysWeatherAlert in HKEY_LOCAL_MACHINE\SOFTWARE\Wow6432Node\Microsoft\Windows\CurrentVersion\Run in order to be able to start working together with Windows OS. These are, of course, not all the changes this software is going to apply.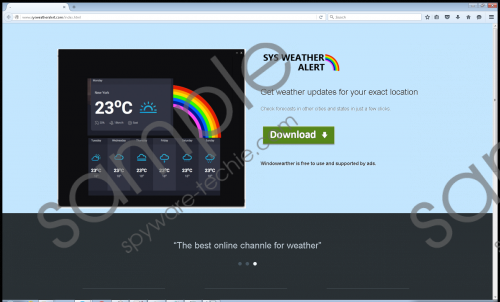 SysWeatherAlert screenshot
Scroll down for full removal instructions
Even though it does not work as it should, i.e. it does not provide the weather forecast, it does not mean that it does not work at all. According to specialists, it is very likely that users will still see various commercial advertisements appearing on their screens because SysWeatherAlert is known to be an ad-supported program. These ads might not look harmful at all; however, the truth is that they might contain links of bad websites inside them, and a user who clicks on any of those ads might be taken to an unreliable third-party web page. Furthermore, it has been observed too that the application is going to gather information about users. Remember, your information might be recorded on third-party websites as well, so you should be very careful. In our opinion, it would be best to reduce the possibility of ending up on those unreliable websites. One of the things you can do is to delete SysWeatherAlert from the system. We are sure that you will not miss it because there are other trustworthy applications for checking the weather forecast on the web. Feel free to download one instead after getting rid of SysWeatherAlert.
Unfortunately, there are hundreds of adware programs on the web, so there are no guarantees that you will not encounter any of them ever again. Of course, we have several piece of advice for you – we hope that they will help you to prevent adware from sneaking onto the computer. First of all, you should visit only trustworthy websites and download software from reliable sources only. Secondly, you should acquire and install a reputable security tool, and, third, you should install new programs carefully and read all the information provided for you on the installation window because you might be allowed to uncheck a particular box and prevent untrustworthy software from being installed.
Adware programs are not very hard to remove because they usually have an uninstaller in Control Panel. Unfortunately, they often leave junk files. SysWeatherAlert is no exception. It has been observed that it will leave several files on the system as well. Below-provided instructions will help you to erase them; however, if you want to be sure that you have really deleted this adware fully, you should scan your system with SpyHunter.
Delete SysWeatherAlert
Windows XP
Click the Start button.
Select Control Panel and click Add or Remove Programs.
Select the program and click Remove.
Windows 7 and Vista
Open the Start menu.
Click Control Panel.
Click Uninstall a program.
Right-click on SysWeatherAlert and Uninstall it.
Windows 8/8.1/10
Tap the Windows key + R.
Enter Control Panel in the box and click OK.
Click Uninstall a program.
Find the software you wish to remove and right-click on it.
Click Uninstall.
Delete leftovers
Open the Windows Explorer.
Enter C:\ProgramData in the address bar and tap Enter.
Delete ProcessSysWeatherAlert.
Enter C:\Users\user\AppData\Roaming\Microsoft\Windows\Start Menu\Programs\SysWeatherAlert in the address bar again.
Locate SysWeatherAlert.lnk and remove it.
Open the Registry Editor (tap the Windows key + R, enter regedit, and then click OK).
Go to HKEY_LOCAL_MACHINE\SOFTWARE\Wow6432Node\Microsoft\Internet Explorer\MAIN\FeatureControl\FEATURE_BROWSER_EMULATION.
Find and locate the Value SysWeatherAlert.exe.
Go to HKEY_LOCAL_MACHINE\SOFTWARE\Wow6432Node\Microsoft\Windows\CurrentVersion\Run.
Right-click on the ProcessSysWeatherAlert Value and delete it.
In non-techie terms:
Keep in mind that our manual removal instructions help users to delete the SysWeatherAlert adware and its leftovers ONLY. In other words, other unreliable programs that might have entered the system together with this adware program are still installed. You will have to detect and erase them yourself. If you want to do that quicker, use a reliable automatic scanner.