Do you know what SystemKeeperPro is?
SystemKeeperPro is promoted on its official website systemkeeperpro.us as an exceptionally useful tool that can fix system errors, clean the computer, and optimize the system's performance. Evidently, it works as a PC optimization tool. Even though this piece of software seems to be a perfect tool for taking care of the system's safety, specialists do not think that it is a very wise to use it as the one and only tool for keeping the computer intact because it is not that trustworthy. It is definitely not as dangerous as malicious applications spreading these days through the web, but it still falls into the category of potentially unwanted application, which shows that it might start acting in an undesirable way. If you notice something suspicious, do not keep SystemKeeperPro installed on your PC. You should remove it also if it has appeared on your PC without your permission. Yes, this PC optimizer might travel in software bundles, so many users do not notice how it has entered their computers. To be frank, the fact that it is distributed using the bundling method is the main reason this program has been classified as a potentially unwanted application. More detailed information about SystemKeeperPro is available in the following paragraphs of this report, so you just need to read this article to find out more about it.
When the application is installed on the computer, it immediately opens the scanner and starts scanning the computer. It has been found that it scans and finds unnecessary junk and temp files, cache files, and error reports. On top of that, it finds issues associated with the CPU itself, memory, network, system registry, system resources, and the video system. Users can see a number of errors detected and the junk size, but they cannot find more about these problems, so it is unclear whether these scan results can be trusted fully. Also, users quickly find out and get disappointed when they get a message that they have to register, i.e. to upgrade SystemKeeperPro to get those issues fixed. As has been found, only 10% of the total number of problems can be fixed for free, which means that the free version of this PC optimizer is quite useless. The license for 12 months that works on up to 3 computers costs $41.40 at the time of writing. Of course, you might get an offer to purchase it for a lower price during the deletion process. The final word is, of course, yours, but we suggest that you spend this amount of money on a more trustworthy tool. Specialists are sure that SystemKeeperPro can delete empty registries and junk files, but it is definitely not as useful as other similar PC optimizers available on the market, so think twice before going to purchase its license.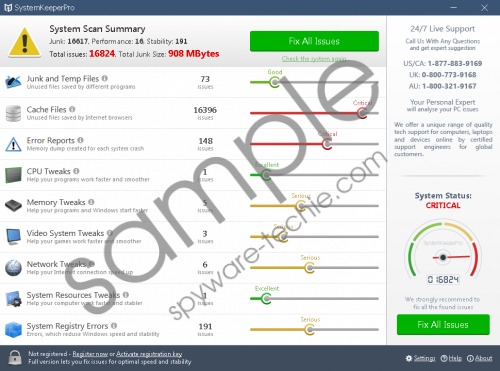 SystemKeeperPro screenshot
Scroll down for full removal instructions
If you make a decision not to use SystemKeeperPro, you should go to delete it because it will still be working on your PC after you close it. It is capable of starting with the Windows OS because it creates a Value in the Run registry key. It is impossible to undo the changes it has applied to the system registry without deleting the application, so go to remove it if you are not planning to use it. If it is kept installed, it will continue working, and you will see its window. On top of that, it might show pop-up messages.
Is not an ideal application, but it definitely cannot be called serious malicious software. Therefore, it is not surprising that it has an uninstaller. In other words, it can be deleted like any other ordinary application. Find instructions below this article if you have never deleted an application yourself. You can go to scan your PC with an automatic malware remover too if you do not find our instructions very helpful. As there are so many untrustworthy scanners out there, it might be hard for you to find a really trustworthy one, so we suggest scanning the computer with SpyHunter. Download its free diagnostic version by clicking on the Download button to try it out.
How to delete SystemKeeperPro from my PC
Windows XP
Click the Start button.
Select Control Panel.
Click Add or Remove Programs.
Select the application and then click Remove.
Windows 7/Vista
Open the Start menu.
Click Control Panel to launch it and then click Uninstall a program.
Right-click on an entry of an undesirable program.
Select Uninstall.
Windows 8/8.1/10
Press Win+X simultaneously on your keyboard.
Click Control Panel to open it.
Click Uninstall a program.
Right-click on the undesirable application.
Delete it by clicking Uninstall.
In non-techie terms:
It is not advisable to keep a potentially unwanted program installed on the computer; however, it might not be your only problem. Our research team says that other untrustworthy applications might be installed on your system as well. In most cases, users do not know about their presence because they tend to enter computers rather secretly. It will be a very difficult job to find all those threats manually, so use an automatic scanner to find them. After detecting all of them, you could remove them yourself or go for the automatic removal.