Do you know what SystemBytes Win 7 2015 is?
SystemBytes Win 7 2015 is a fake antivirus program from the Braviax family. It seems like this family of dangerous computer infections is preparing for the new season because there has recently been an influx of new programs in the group. As you can probably tell, SystemBytes Win 7 2015 is the newest addition to the family. There is no need in telling you how dangerous this application is. This program is intrusive and obnoxious, and you must remove SystemBytes Win 7 2015 from your computer as soon as possible.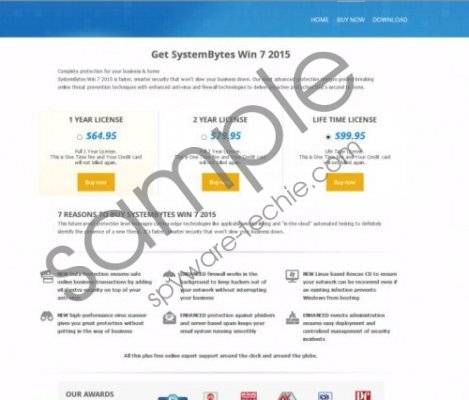 SystemBytes Win 7 2015 screenshot
Scroll down for full removal instructions
If you think that you have seen something like SystemBytes Win 7 2015 before, then you are most definitely right. This rogue antispyware application is practically identical to Zorton Win 7 Protection 2014, Rango Win 7 Antispyware 2014 and Sirius Win 7 Antispyware 2014, all of which are part of the Braviax family as well. Consequently, we can see that SystemBytes Win 7 2015 employs the same distribution methods as its predecessors, and it enters your computer surreptitiously. Before you even know it, you have the rogue's window on your screen, performing a full system scan.
Needless to say, the scan performed by SystemBytes Win 7 2015 is fake. The rogue simply wants to make an impression that you are seriously infected with malware, and the only way to terminate it is purchasing the full version of SystemBytes Win 7 2015. The rogue will not allow you to launch your browser, Windows Task Manager or Registry Editor, citing various security reasons. However, the truth is that SystemBytes Win 7 2015 does not WANT you to load these programs and utilities because this would lead to rogue removal. Obviously, the rogue does not want that because it still needs to swindle you out of your money.
Financial profit is the sole reason SystemBytes Win 7 2015 enters your system. The rogue expects you to give away your credit card information when you submit it in the purchase form. If this happens, the cyber criminals behind this infection will make use of your financial data in illegal operations and sooner, rather than later, you will lose all of your money.
Before any of that happens, get rid of SystemBytes Win 7 2015 automatically. You should not try removing this rogue manually because it requires advanced computer system knowledge. Invest in a legitimate computer security tool that will terminate SystemBytes Win 7 2015 for you. Don't forget that at the same time it will help you protect your computer from similar infections in the future.
In non-techie terms:
SystemBytes Win 7 2015 is a rogue antispyware program. It looks like an antivirus application, but it is a dangerous computer infection. Follow the instructions below to remove SystemBytes Win 7 2015 from your system. Make sure similar threats do not affect your computer again.