Do you know what Systemboosterpro is?
Systemboosterpro is one more questionable application. In fact, it has been categorized as a potentially unwanted program despite the fact that it is marketed as a useful tool. On the official website, its developers claim that this program should be used to optimize your personal computer for the smoother performance. Even though it might seem like a useful tool, you should know that it acts in a rather suspicious manner. Such questionable functionally is the main reason malware experts at Spyware-Techie.com advise you to avoid it at all times. Another reason it has been classified as a potentially unwanted program is the fact that it is spread in questionable ways. To learn more about Systemboosterpro and to understand why we recommend conducting its removal, make sure to read the rest of this report. If you wish to delete it, make sure to follow the detailed instructions that we provide below.
At first sight, the overall functionality of Systemboosterpro might not seem questionable whatsoever. Like any other optimization tool it will start a full system scan once it is installed on your personal computer; the scan does not take long to complete and does not exhibit any questionable features. You will notice a large list of errors allegedly responsible for the slow functionality of your system. The suspicious thing about this list is the fact that malware experts at Spyware-Techie.com have noticed that results include quite a few temporary files and inactive registry entries which are treated as errors while in reality their effect on the way your PC functions is minor. This is probably a technique used to lure users into obtaining the full version of this optimization tool as that is the only way to fix the questionable errors. We highly advise you to refrain yourself from doing so because you might simply pay for a program and a service that you do not need in any way. You should also know that for as long as this dubious program optimization tool is active on your PC you will be provided with annoying notifications urging you to fix the alleged errors. It is also important to note that this invasive program will be launched upon each system startup even if you do not want that. Due such overall functionality our research team advises you to delete Systemboosterpro once and for all.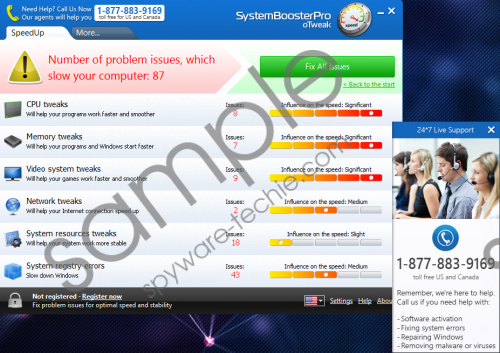 Systemboosterpro screenshot
Scroll down for full removal instructions
In addition to suspicious functionality, Systemboosterpro is spread in a rather questionable manner as well. As it turns out quite a few users get this optimization too without realizing it. This is so because it is often distributed via bundled installers. This means that it could come along with other devious programs; thus, we highly advise you to check your operating system for other questionable programs if you already have this dubious optimization tool running on your personal computer. If you are keen on keeping your personal computer clean of any suspicious programs, you need to take a few precautionary steps. Firstly and most importantly, make sure to install a professional antimalware tool if you do not have one already as it can detect and warn you beforehand about any dubious program. We also advise you to avoid all suspicious third-party download websites since they are known to host installers filled with devious programs. Last, but not least, we urge every user to pay their utmost attention to every single installation procedure. This is important because you might be presented with an opportunity to cancel the installation of some unwanted program. These seemingly simple preventative steps will help you maintain a secure and clean system at all times.
We recommend deleting Systemboosterpro since it exhibits questionable and invasive features. Do to so follow the instructions that we provide below. It is important to terminate every single bit of this potentially unwanted program since its traces could be used in devious ways. For example, leftovers might trigger a silent installation procedure. In order to be sure that manual removal o Systemboosterpro has been successful, we urge you to double-check your entire operating system for its potential traces.
How to remove Systemboosterpro from your PC
Windows 10
Right-click the Windows button.
Select Control Panel and click Uninstall a program.
Select the unwanted program and click the Uninstall button.
Windows 8 and 8.1
Right-click your Task Bar.
Select Control Panel and click Uninstall a program.
Right-click the unwanted program and select Uninstall.
Windows 7
Click the Windows button and select Control Panel.
Click Uninstall a program.
Double-click the undesirable application.
Confirm your choice.
Windows XP
Tap the Windows key on your keyboard.
Select Add or remove programs.
Select the unwanted application and click Remove.
How to remove leftovers of Systemboosterpro
Click the Windows button.
Type regedit into the search box and then tap Enter on your keyboard.
Select and delete the registry entry named SystemBoosterPro in the following directories:
a) HKEY_CURRENT_USER\Software.
b) HKEY_CURRENT_USER\SOFTWARE\WOW6432Node.
c) HKEY_CURRENT_USER\Software\Microsoft\Windows\CurrentVersion\Run.
d) HKEY_LOCAL_MACHINE\Software\Microsoft\Windows\CurrentVersion\Uninstall.
In non-techie terms:
Our research team is well aware of the fact that some users might find manual removal a bit too complicated. If you happen to be one of those users, do not worry. Our researchers have crafted an alternative removal guide that you should use to delete SystemBoosterPro in an automated manner.