Do you know what System Healer is?
System Healer is presented as a PC cleanup tool that "Saves you time and does wonders, "faster and does the job better," and "Helps protect your privacy online." The question is — what kind of wonders can it do? What is the job it can perform better? We will try to answer these questions in this article, because the cyber security industry has labeled System Healer as a potentially unwanted program that you might want to remove.
As far as we know, System Healer can only be downloaded from its dedicated website at Systemhealer.com. Allegedly, the website is approved by Symantec. However, any malicious website can put on a logo like this so you should never assume that a website is safe based on how many certificates, awards, and security check stamps a website has. The website contains rather amusing slogans, such as "Technically, the Best PC cleaner of 2015." Well, technically, you cannot prove that, because this program has not been reviewed by any well-known software guru or found on any software comparison list that some websites love to compose. Of course, such lists are prone to be biased, but System Healer is definitely not an underdog. In any case, this program does not seem to be featured on shareware websites, and that is very good news indeed.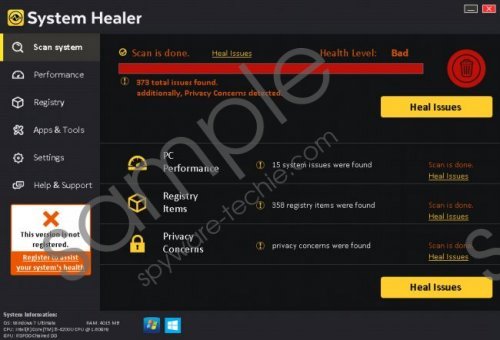 System Healer screenshot
Scroll down for full removal instructions
The programs website states that "You can see exactly what is slowing your Windows system down and prevent it from ever crashing again. The Reports feature will issue you a clear and logical report about the status of your PC whenever you want." However, you will not have the pleasure of seeing what System Healer has found until you purchase a license key. In truth, this application resembles the likes of eFix Pro, A1PCCleaner, Cleaner Pro, and so on. Programs such as System Healer are designed to make money. There is no way of knowing if the application actually conducts a real scan of your computer. One indication that the scan is fake is the very short scan time and this particular program scans very fast. The application has somewhat of a sleek, yet cheesy design. Some of the functions that this program performs are actually performed by the operating system. One particular example is the program's Disk Checker function, which is performed by windows — not by System Healer.
At any rate, once you scan your computer with System Healer a pop-up window will appear demanding that you register the product. You will be redirected to a website where you will be asked to pay $29.95 USD. Whether you decide you buy this application or not is completely up to you, because it is not considered malicious and it will not harm your computer. However, it will not do anything good either. We are of the opinion that it is a money grabber, and therefore, we think that you should remove it.
In conclusion, System Healer is a potentially unwanted program that is said to clean of computer of various errors. However, it does not provide any information about its findings until you buy a license key. We think that this program is no deferent from other PUP's that pose as useful programs. So you should remove it using the instructions located below. Keep in mind that there are other applications that can to the same job free of charge, so you encourage you to get another program.
How to Uninstall System Healer
Windows XP
Open the Start menu.
Click Control Panel.
Select Add or Remove Programs.
Find the unwanted program and click Remove.
Windows 8 and Windows 8.1
Open the Start Screen.
Type Uninstall in the search box and then go to Settings.
In the search results, go to Uninstall a program.
Find the application and right-click on it and click Uninstall.
Windows 7 and Windows Vista
Click Start.
Select Control Panel.
Click Uninstall a program.
Find the unwanted cleaner and right-click on it.
Click Uninstall.
In non-techie terms:
System Healer appears to be a potentially unwanted application that claims to scan your computer for various errors and fix them. But it will not show information about its scan results which is very suspicious. The application demands that you buy the full version if you want to clean your computer. So we recommend that you remove this application, because it probably does not clean your computer.