Do you know what System Care is?
It is quite clear that with such a name System Care tries to sell itself as a useful application that can "clean, optimize, and speed up your PC," but our researchers have noticed a couple of worrisome traits in connection with this program. Instead of cleaning and boosting up your system, this questionable software might do the opposite. Therefore, we have categorized it as a potentially unwanted program, or PUP. Since this PUP might bring malware infections onto your system, its presence is undesirable, not to mention the fact that we are not at all convinced about its reliability. This is why our researchers suggest that you remove System Care if you really want to keep your PC clean. In order to know more about the possible risks and how you can eliminate this threat and avoid similar ones, please read our full report.
It is always a reason to be suspicious about an application that uses questionable distribution methods, such as software bundling. Unfortunately, this PUP can also be found in bundles potentially packed with adware applications, browser hijackers, and other PUPs. These are usually downloaded by unsuspecting computer users who end up on unfamiliar websites of questionable reliability. These can include gaming, dating, torrent, and freeware pages. These are visited by a great number of users every day because they seem to offer free videos, music, movies, and programs. But most of the times a visit to such a site does not end with a reliable and useful tool on board. It is more likely that you click on an unsafe third-party ad or a button, link that does not even look like an ad, and you download a malicious bundle. You may still think that you are installing a legitimate free program when you run the downloaded installer. And, if you are not careful enough with the installation wizard, you may allow a number of threats and unwanted browser changes onto your computer. If you have landed on such sites lately and you know you clicked on questionable content, you should delete System Care and check your computer for other potential threat sources. If you leave even one single application that might cause any security issues by exposing you and your computer to malicious websites, it could be detrimental to your system security and your privacy as well.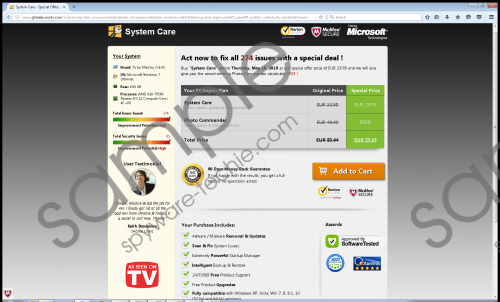 System Care screenshot
Scroll down for full removal instructions
Since this PUP tries to appear to be a useful application, it obviously has a proper-looking website as well. In fact, this PUP has two: globalpcworks.com and uspcworks.com. We cannot say anything bad about these sites since they look quite professional. But we certainly do not think that these sites attract a lot of visitors since it is virtually impossible to find them after a web search. From these sites you learn that you actually need to buy the full version of System Care for about 29 USD to be able to use it properly. This price includes Photo Commander as well, which is offered for free instead of the alleged price of 50 USD. It certainly looks like a good buy, but not this time; no, thanks. Why would you pay almost 30 dollars for a questionable application that might even risk your system security? Our research shows that this PUP is most popular in the following countries: United States 24.8%, Germany 17.1%, United Kingdom 15.0%, and Canada 10.9%. This, of course, does not mean that it cannot emerge anywhere in the world. We advise you to delete System Care if it happens to show up on your computer.
According to our researchers, this PUP may not always show you decent and correct system scan results. It is possible that in an attempt to make you buy the full version, System Care may try to persuade you by showing you fake results so that you believe that there are hundreds of issues to fix. This number could be quite scary to inexperienced users, although it may simply show temporary files and unused registry entries. We do not believe that this application can truly optimize your PC to run faster. But that is only one side of the coin. Another side is that this PUP might be able to download and install adware applications in the background. These infections could expose you to unsafe web content. Engaging with third-party ads displayed by such programs could take you to dangerous websites operated by criminals. We recommend that you remove System Care from your system if you really care. Leaving it on your computer may result in more security-related issues before long.
After this cold shower, let us give you a bit of sunshine by telling you how easily you can delete System Care from your PC. In fact, all it takes is uninstalling it via Control Panel. Locate its uninstaller in the list of installed programs and run it; that is all really. Please use our guide below if you need help with this. But, if you want order on your PC and you want to keep it clean, you may want to consider employing a reputable anti-malware program. Such a security tool can make your computer use and web surfing totally free of worries. Yet, it does not mean that you can forget about updating your drivers and programs regularly.
Remove System Care from Windows
Windows 8, Windows 8.1, and Windows 10
Press Win+Q and type in uninstall a program. Press Enter.
Click on the application and click Uninstall.
Windows Vista and Windows 7
Open the Start menu and pick Control Panel.
Select Uninstall a program.
Click on the application and click Uninstall.
Windows XP
Click the Start button and go to Control Panel.
Choose Add or Remove Programs.
Click on the application and click Remove.
In non-techie terms:
System Care is a useless program that poses as a PC optimizer tool. Unfortunately, this potentially unwanted program might pose a threat to your computer. Leaving it on your system could result in more infections and more exposure to potentially unsafe web content. Since this program can enter your computer in a freeware bundle, it can be the sign of the presence of multiple system threats. We suggest that you delete System Care and eliminate all other related and non-related infections as well. If you want to be effective, you should use a reliable malware removal application.