Do you know what Switch2Search is?
Switch2Search could deceive you into believing that it is a useful addition to your Google Chrome browser, but our researchers found that this plugin may actually put your virtual security at risk. At first sight this search engine page looks like a good idea to have in your browser with its nice and changeable background image and the options of search engines to use for your web searches. However, this plugin may show you manipulated results that could contain potentially harmful third-party advertisements and links. Engaging with such content could let more malware programs onto your machine making it more vulnerable, but you could also lose your money or your precious personally identifiable information if you end up on malicious websites. Therefore, we suggest that you remove Switch2Search as soon as possible in order to protect your computer. But this may not even be the only threat on your system. Please continue reading to find out more about this search engine and the risks you need to be aware of.
It is quite likely that you have visited a questionable website lately and downloaded a software package. You may not even know that you ended up with a bundle and that you let a bunch of malware infections onto your system. This can easily happen when you land on unfamiliar gaming, torrent, and other file-sharing websites. Even if you think that you would never use such sources for downloading files or free software, it is enough for you to run a web search on a desired program and the results could easily contain a number of fake and downright malicious websites. If you are an inexperienced computer user, you may fall for these traps and find yourself clicking on fake download buttons and links. This is how most users infect their computers with browser hijackers, adware programs as well as potentially unwanted programs. These suspicious pages are also full of unsafe third-party commercials. Clicking on any pop-up or banner ad there could drop a malicious bundle onto your machine.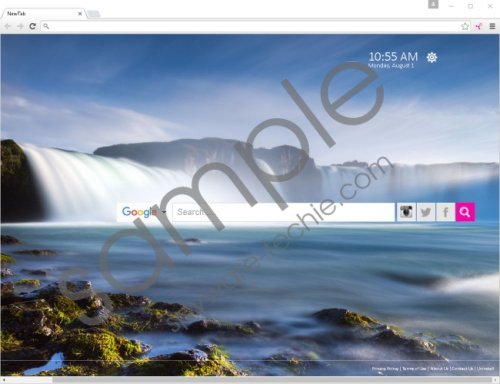 Switch2Search screenshot
Scroll down for full removal instructions
Such infected ads can also be displayed on your screen by adware programs. This could mean that your system is already infected with such malware, which is definitely not good news. As you can see, if your computer is not entirely clean of potentially harmful programs, you may cause more trouble for yourself. This is why we suggest that you detect all potential threats after you delete Switch2Search. You can use a free online malware scanner to do the job for you. But keep in mind that this tool will only identify the problematic applications and not clean them from your system.
Our researchers have also found official sources for this questionable browser plugin. One is the promotional web page, switch2search.com and the other one is the Chrome web store, chrome.google.com/webstore/detail/switch2search/nopaljolpjpgecigkbhcdlblgheccnda, where you are redirected from the official page. We have noticed that less than 10 users have only installed this tool through the store, which means that this cannot be the main distribution channel. We hope that you see now why we say that you should remove Switch2Search from your browser.
You need to be careful with this search engine page because it may look attractive for you. In fact, you can set a nice nature image as your background for your browser window, you can choose from three main search engines to use for your web searches, including Google, Yahoo, and Bing, and you can also use quick links to search keywords relating to one of the three most popular social networks, Instagram, Twitter, and Facebook. Yes, this could really look like a useful tool. But you must be aware of the possible risks. Unfortunately, this plugin can gather data about you, including personally identifiable information, and it can also share this with third parties. Here is what the Privacy Policy has to say about this:
We may share your information with certain third parties (including, without limitation, search engines, content providers, and advertising networks and platforms) that provide various services (such as advertising, marketing, analysis, content, and search)…
The worst in this is that cyber criminals can easily pose as third parties and get hold of your data. This can enable them to target you with personal and relevant ads and links that you will be more likely to click on. However, this could lead you to malicious websites where you may be scammed. Since this plugin can modify the search results to include advertisements and links leading to affiliated websites, you are never safe to engage with any content provided by this tool. We recommend that you remove Switch2Search right now.
It is good that this infection only affects your Google Chrome browser because this makes it all the easier to eliminate it. Remove the extension from your browser and this threat should end there and then. However, you should not forget about the rest of the infections. It could take a while to identify and clean all potentially harmful programs if you set out to do it manually. Unless you are an advanced user, we would rather advise you to use reputable anti-malware software. But before downloading any, make sure that your choice is totally reliable because the web is swarming with rogue security tools.
Remove Switch2Search from your browser
Google Chrome
Press Alt+F and choose More Tools.
Select Extensions in the left panel.
Select the extension and click on the trash can on the right.
Click Remove in the pop-up.
In non-techie terms:
Switch2Search is an attractive-looking Google Chrome browser plugin that indeed may be a potentially unreliable search engine. This tool may introduce you to unreliable third-party advertisements and sponsored links. If you do not want to land on potentially malicious websites, allow more malware threats onto your system, or be scammed by cyber criminals and lose money, you should not hesitate to remove Switch2Search from your browser. Since this application can come on board alongside other malicious software installers, it is quite possible that you will find other malware threats on your system, too. If you want full protection for your computer, we suggest that you install a trustworthy security tool unless you want to keep some strict web surfing rules and hunt down malware manually every time one sneaks onto your system.