Do you know what SwiftCoupon is?
SwiftCoupon is not an application computer users know a lot about. This is because in most cases they are introduced to it unexpectedly. You may click the download button of some video codec or Java update and face a bundled installer offering this seemingly useful browser extension. The installer on swiftcoupon.net is no longer active, so the developers of the program need the support from third parties for the successful distribution of the unreliable program. We believe it is a must to delete SwiftCoupon because this application supports third-party advertisers. Those who do not remove adware will be bombarded by advertisements which may be misguiding and which may be used to scam you.
Some computer users will struggle to identify and remove SwiftCoupon because the program is known to be presented with random name versions. Others will fail to realize that the coupons, deals and offers this program displays are unreliable. If after clicking on any of SwiftCoupon offers you are redirected to suspicious web stores, introduced to the installers of unfamiliar programs or questionable offers, we recommend that you do not interact with them. You should be just as careful with the offers of other adware you must delete, such as CouponScanner, ShopperMaster, or GoSave. Note that these programs come from the same family of adware as SwiftCoupon, and you may be able to delete them in the same manner.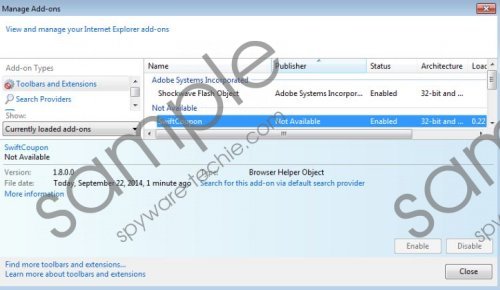 SwiftCoupon screenshot
Scroll down for full removal instructions
Every advertisement provided by SwiftCoupon is considered to be a security crack, and so clicking on them may jeopardize your virtual security. Of course, if adware and additionally installed threats are running, your virtual security has been breached already. Please follow the instructions below to uninstall the unwanted program from the PC and delete it from the browsers. As soon as the manual SwiftCoupon removal is complete, go ahead and scan the system for leftover files. Also, do not forget to delete additionally running threats. These tasks require some time and a lot of practical knowledge. If you do not have this, install a reliable security tool which will delete running malware automatically.
Delete SwiftCoupon from Windows and IE
Delete from Windows 8:
Access the Metro UI screen.
Right-click and select All apps.
Open the Control Panel.
Select Uninstall a program.
Right-click SwiftCoupon.
Select Uninstall to remove it.
Delete from Windows Vista & Windows 7:
Open the Start menu.
Select Control Panel.
Click Uninstall a program.
Right-click the app you wish to remove.
Select Uninstall.
Delete from Windows XP:
Click the Start button on the Taskbar.
Open the Control Panel.
Double-click Add or Remove Programs.
Go to Change or Remove Programs.
Remove the undesirable software.
Remove SwiftCoupon from Chrome and Firefox
Remove from Mozilla Firefox:
Launch Firefox.
Simultaneously tap Ctrl+Shift+A.
Select Extensions.
Remove the undesirable extension.
Remove from Google Chrome:
Launch Chrome.
Simultaneously tap Alt+F.
Select Tools.
Select Extensions.
Click the trash icon next to SwiftCoupon.
Select Remove.
In non-techie terms:
The guides provided below will help you install automatic malware removal software in those cases when SwiftCoupon comes bundled with highly malicious and disruptive software. If you have chosen to delete SwiftCoupon from the PC manually – follow the guides above and install a trustworthy malware scanner. Keep in mind that if you do not remove leftover files, your operating system may remain vulnerable. Also, do not forget to install reliable security software to keep other infections away.