Do you know what Survey.circularly.xyz is?
If you face a suspicious pop-up presented via Survey.circularly.xyz, you should close it immediately without even paying attention to the offer that might be presented to you. According to our malware research team, this is an unreliable adware server that might have been set up to introduce unsuspecting users to potentially misleading offers. Unfortunately, it is possible that this adware server will be employed to expose you to malware installers and even virtual scams. We are sure that you do not want to put your virtual security at risk just because you might be introduced to alluring offers. It is possible that you will face the unreliable offers hosted by this server when visiting certain websites; however, it is also possible that these offers will pop up when unreliable adware (advertising-supported software) enters your operating system. If you need to remove Survey.circularly.xyz-related adware, this is the report you should read. Make note of any questions that come up and, afterward, add them to the comments section below.
Survey.circularly.xyz is not the first suspicious adware server we have even encountered. Other unreliable adware servers include Nextbestgame.org, Updatecomputerfast.net, and Mstechsupport.info. You can learn all about these servers in reports that were constructed when analyzing them. In most cases, adware servers come into play when the user is redirected to a page represented by it. Of course, redirecting cannot happen out of nowhere. You could be redirected to Survey.circularly.xyz ads if you click on links hidden behind unreliable banner ads that could be placed on unreliable websites, for example, sites that represent pornographic content or Torrents. As mentioned previously, adware could be responsible as well, in which case, pop-ups ads could be sent from this server at any point. Obviously, if adware is active, we strongly recommend scanning your operating system just to see which other infections might be present. If dangerous malware is active, you need to eliminate it as soon as possible. Keep in mind that there are plenty of dangerous infections that, at first sight, look harmless or are invisible altogether.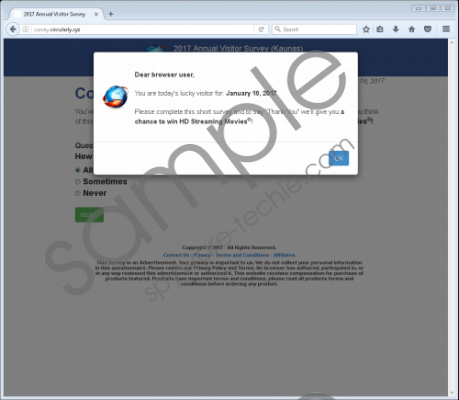 Survey.circularly.xyz screenshot
Scroll down for full removal instructions
The advertisements delivered via Survey.circularly.xyz could be very attractive if they were selected based on your browsing history. Tracking cookies installed on your PC could be used to record this information, and this is what might help advertisers to handpick the most attractive offers. The problem is that information regarding your preferences could also be used to introduce you to offers that conceal unreliable content. As we discussed previously, malware installers could be hidden behind these offers. Even if they are simply used to boost traffic to unpopular websites, you need to be extremely cautious about these ads. When it comes to malware installers, beware of ads suggesting updates, security tools, malware scanners, document converters, video codecs, and other seemingly useful tools. These "useful" programs could hide malicious infections that you would need to delete if you installed them.
It is difficult to say in which way the Survey.circularly.xyz advertisements were introduced to you, which is why it is not easy to discuss the removal process. Of course, we advise scanning your operating system with a legitimate malware scanner first to see which threats you might need to erase. If you are lucky and the scanner comes clean, it is most likely that you have been introduced to suspicious offers and surveys when visiting unreliable websites. Obviously, you should stay away from those websites. In case malware is found, different methods might need to be applied. We add a guide that shows how to uninstall unwanted programs, and, hopefully, that will be enough to delete Survey.circularly.xyz-related software.
Remove/uninstall undesirable programs
Windows 10 or Windows 8
Tap Win+R keys simultaneously to open the RUN dialog box.
Type Control Panel into the box and then click OK to open the menu.
Click Uninstall a program (right under Programs).
Right-click and Uninstall the undesirable program.
Windows 7 or Windows Vista
Click the Windows logo on the left of the Taskbar.
Select Control Panel and then move to the Programs menu.
Click Uninstall a program to access all uninstallers.
Right-click the undesirable application and choose Uninstall.
Windows XP
Click the Start menu button on the left of the Taskbar.
Open the Control Panel menu to access different utilities.
Double-click Add or Remove Programs.
Select the unwanted application and then click Remove.
In non-techie terms:
It is very important to always check the source of advertisements and surveys that might come your way. If you are vigilant, you might evade serious virtual security dangers. For example, if you discover installers, surveys, and seemingly useful offers delivered via Survey.circularly.xyz, you should suspect the existence of adware. Or you should be cautious about the sites you visit. If you continue facing suspicious pop-ups – or if you have already interacted with them – you should scan your operating system to check if it is clean. If a scanner uncovers malware or adware, you need to delete it immediately. In the best case scenario, you will only need to uninstall a few apps. In a different scenario, you might need to employ strong anti-malware software to have dangerous threats eliminated automatically.