Do you know what SurpriseSavings is?
If you think that SurpriseSavings is a very useful program, you are mistaken, because this software is a simple advertising-supported application. This means that it has been published in order to generate money for the publisher and that it definitely does not want to help you save money or do anything else for you. If you do not believe us, you will find out that this program is useless yourself after the installation. Luckily, you can remove SurpriseSavings anytime. This program cannot be erased via Control Panel, so we suggest that you read this article in order to find out what you have to do in order to get rid of it.
Many computer users download SurpriseSavings because it promises to help save money by providing coupons and discounts. In addition, it promises to enable users to compare prices and find the cheapest items. Unfortunately, it does not seem that this program is going to act in a beneficial way, so we suggest that you remove SurpriseSavings as soon as possible. If you are going to keep this program installed, you should know that you can cause serious harm to your computer. We do not think that you want this to happen, so we suggest that you delete SurpriseSavings as soon as possible. We will explain to you how to do that further along in this article.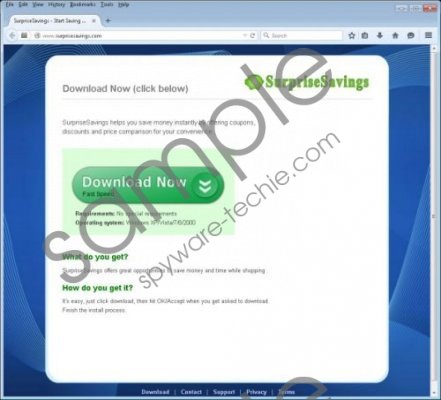 SurpriseSavings screenshot
Scroll down for full removal instructions
There is a possibility that SurpriseSavings not only shows advertisements, but also performs other activities. According to our security experts, this program might collect information about your browsing habits as well. If you do not want to reveal such details as the websites you visit, the time you spend on them, and the content you access, you have to remove SurpriseSavings as soon as possible. Do not forget to take care of your PC's safety after the removal of this adware because other similar programs might enter your system without your permission as well. The easiest way to protect your system from malware is to install an antimalware tool.
You can erase SurpriseSavings rather easily. You just have to access the Add-ons Manager and remove this program from there. If you do not know how to do that, you should delete this program from the system by using our manual removal instructions. They are placed below this article. If these instructions are incomprehensible for you, you should remove SurpriseSavings automatically. In other words, you should scan your PC with an antimalware tool, such as SpyHunter.
Remove SurpriseSavings
Mozilla Firefox
Launch your browser.
Tap Ctrl+Shift+A simultaneously.
Select Extensions.
Click on the unwanted extension and select Remove/Disable.
In non-techie terms:
There is a huge possibility that SurpriseSavings is not the only threat installed on your computer; thus, you should definitely check your system's condition. You might try to detect undesirable programs yourself as well; however, you should know that it is not so easy to do that. If you want to find out very quickly whether your system is clean, you should use the SpyHunter diagnostic scanner for this matter.