Do you know what Surf Slide is?
Surf Slide may be recognized as a threat because it opens portals to unfamiliar sites. Unreliable parties controlling untrustworthy websites could use the application to reach out to users and manipulate them in different ways. For example, you could be exposed to fictitious downloaders, phishing scams, misleading offers, and cunning surveys. Interaction with Surf Slide ads could expose you to different virtual security risks, which is why you must remove the advertisement-supported program. Do you know how to delete Surf Slide from the operating system?
Key Lime Lizard, Lampy Lighty, Matinooch, and Girafarri are a few infamous clones of Surf Slide. All of these programs have been developed by SuperWeb LLC, and so it is not surprising that they work in the same manner. The website representing the ad-supported program (surfslidetide.com) is nearly identical to the sites representing its clones. Furthermore, the Privacy Policy, Terms of Use, and About sections promoted via these websites present the same information. In conclusion, these programs are identical, and so you must remove them for the same reasons.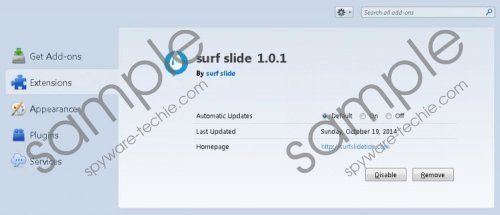 Surf Slide screenshot
Scroll down for full removal instructions
It is necessary to remove Surf Slide from your PC because the program will connect to the web and then communicate to different servers. This could be used to present online advertisements. As mentioned before, these advertisements could be linked to unreliable parties, and clicking on them could be dangerous. Our malware researchers warn that Surf Slide advertisements could be used to introduce other infections that you will need to delete. Well, does Surf Slide offer any benefits? Unfortunately, it does not, and so the removal of this adware should be performed without any hesitation.
Install automatic malware removal software to delete Surf Slide and other programs associated with the application. These programs could have been installed with the help of Surf Slide, or they could have been installed together with adware. Keep in mind that the official download page is inactive, which means that other methods are used to distribute the program. Are you interested in the manual Surf Slide removal? Here are the instructions which might help you.
Delete Surf Slide from the PC
Delete from Windows 8:
Tap the Windows key to access the Metro UI menu and right-click on the screen.
Select All apps to open the Apps menu and select Control Panel.
Move to Uninstall a program and locate the program you wish to remove.
Right-click this program and select Uninstall.
Delete from Windows Vista & Windows 7:
Navigate to the left of the Taskbar, open the Start menu and click Control Panel.
Move to Uninstall a program and right-click Surf Slide.
Select Uninstall to remove the undesirable application from the PC.
Delete from Windows XP:
Click Start on the Taskbar to open a user menu and select Control Panel.
Double-click Add or Remove Programs and Remove the undesirable application.
In non-techie terms:
Surf Slide is an adware program which deserves removal. The program presents online advertisements which may be presented by unreliable parties. It is clear that the application is intrusive, and so you should not postpone its removal for another moment. Delete Surf Slide using the guides below, and employ automatic malware removal software to delete the remaining malware.