Do you know what Surf Safer is?
Surf Safer is an adware program, and it enters your computer to help its developers generate financial profit. The program wants you to think that it can protect you from various online threats, but it does not provide such a service at all. In fact, the sooner you remove Surf Safer from your PC, the better. In the worst case scenario, this adware program may expose you to corrupted third-party content, and that could lead to a malware infection. Then you would definitely lose a lot of money, and your system would be crippled beyond repair.
Our research lab team says that Surf Safer has been created by the same authors of Coupon-Samurai (via coupon-samurai.com). This would suggest that the application from a family of adware programs and similar intruders have been bothering computer users worldwide for quite some time already. Just like its predecessors, Surf Safer has an official website at surf-safer.com that looks rather user-friendly. However, the direct download button does not work, so all the information provided at the site is basically rendered void. What is the use of a self-updating and cross-compatible (as said on the site) application, if you cannot even download it in the first place?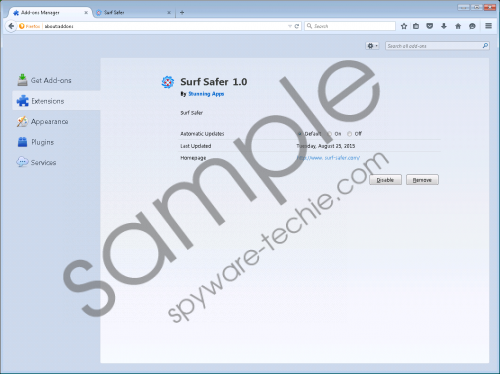 Surf Safer screenshot
Scroll down for full removal instructions
Then, you might ask, how it is possible for Surf Safer to spread around if the official website is not part of the distribution network. The answer is that adware programs seldom rely on their homepages for distribution. Far more often they get distributed bundled in software packages, so that when Surf Safer enters your system it is very likely that there are at least several other applications that enter your system without your noticing it. If you must have some program, and you can see that it is available for download at its official website, please download it from its main vendors. Do not resort to downloading software from third-party distribution sources.
Third-party sites that are hosting freeware do not intend to infect you with malware, but they host far too many third-party installers to be trustworthy. If you still decide to download a program from a file-sharing site, please pay close attention to every single step in the installation wizard. The chances are you will be offered the opportunity to decline the installation of additional programs, but, if you skip through these steps, then the likes of Surf Safer will definitely enter your system.
Surf Safer is more annoying than dangerous because it displays customized commercial offers whenever you access a site that supports third-party ads. However, these ads might as well be embedded with unreliable content because the application does not screen the outgoing links. Such programs state explicitly in their privacy policy that they are not responsible for the third-party content security, and, on top of that, they "may disclose your information to third parties."
You should not suffer this useless application any longer. Please uninstall Surf Safer right now by removing the extension from your browser and then deleting the program file from the Program Files directory. The file path for both folders is %PROGRAMFILES%\Surf Safer and %PROGRAMFILES(x86)%\Bench.
However, if you do not feel confident enough to perform this removal on your own, you can always rely on a reliable antispyware application that will get rid of Surf Safer for you automatically. It will also protect your PC from similar intruders in the future.
How to Delete Surf Safer
Mozilla Firefox
Press Alt+T and click Add-ons.
Disable and remove Surf Safer from Extensions.
Restart your browser.
Google Chrome
Press Alt+F and click Settings.
Press Extensions on the left pane.
Remove Surf Safer from the list.
In non-techie terms:
Surf Safer is an annoying application that will spam you with commercial ads, slowing down your browser. In the long term, it could expose you to severe computer security threats. You should protect yourself and your system from any potential dangers by removing Surf Safer today. If you need an alternative software removal method, please refer to the secondary set of removal instructions below this description.